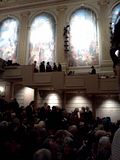 Friday night I heard
Philharmonia Baroque's Christmas-themed, all-Bach program
. Guest conductor
Masaaki Suzuki
has a great head of white hair. He gestures vigorously & cues all the entrances. He led with consistently fast tempos, though the speediness was somehow never pulse-quickening. The famous
Air
of the Orchestral Suite No. 3 felt arid. The trumpets often struggled to keep up with the rapid tempos.
The chorus of 23 for the Cantata BWV 63 & the
Magnificat
sounded happy & clear. Alto
Fabiana González
makes a clean, solid sound. Soprano
Sherezade Panthaki
has a pure, pretty voice that made me think of a bird in flight. Bass-baritone
Dashon Burton
has a deep, open sound, & there is a nice relaxed quality to his singing. Tenor
Dann Coakwell
's voice is clean & unstrained. He looked joyful & emotionally involved while performing. Soprano
Claire Kelm
moved back & forth between the chorus & the front of the stage to sing the soprano II part in the
Magnificat
. Oboist
Marc Schachman
Gonzalo Ruiz
played clean & mellow obbligato solos in the cantata &
Magnficat
.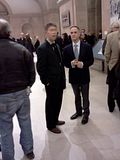 This concert presented the earlier E-flat version of the
Magnificat
, which seemed pretty similar to the standard version in D, except for a couple of interpolated choruses in German. Ms. Panthaki sounded mellifluous in the
Quia Respexit
. The voices of her & Mr. Burton, while both attractive, did not really blend in their duets. Organist
Hanneke van Proosdij
did double duty playing one of the recorder obbligatos in
Esurientes implevit bonis
, while harpsichordist
Charles Sherman
took over the organ. The male choristers did a nice job making their 16th notes in
Fecit potentiam
sound distinct & separated.
The concert was well attended & the audience quiet & polite. They applauded especially for the chorus & soloists. A phone rang from somewhere just before the
Suscepit
of the
Magnificat
.

§ A Bach Christmas
Philharmonica Baroque
Masaaki Suzuki, conductor

Sherezade Panthaki, soprano
Claire Kelm, soprano
Fabiana González, alto
Dann Coakwell, tenor
Dashon Burton, bass-baritone

Philharmonia Chorale, Bruce Lamott, director

J.S. BACH Orchestral Suite No. 3 in D major, BWV 1068
J.S. BACH Cantata No. 63 Christen, ätzet diesen Tag, BWV 63
J.S. BACH Magnificat in E-flat major, BWV 243a

Fri, Dec 14, 2012, 8:00 pm
The Herbst Theatre,
San Francisco