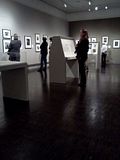 This week I took advantage of the
Jewish Contemporary Museum
's free day to see
The Radical Camera: New York's Photo League
, a show featuring street photography of New York in the 1930's & 40s. The selection is large & inclusive, & there were many names I did not recognize. All the images strike a balance between the aesthetic & the documentary, & every social issue depicted feels dismayingly relevant. A page from the 1947
New York Times
is on display, & its headlines could be from today's paper.
I was drawn to the pictures of children, such as a little boy caught by Davd Robbins at an
Antiwar Demonstration, 1941
& a little girl with a supercilious expression in Ann Copper's
Girl Along a Parade Sideline, New York, 1950
. Arthur Leipzig's frenetic overhead view of
Chalk Games, Prospect Place, Brooklyn, 1950
might be the source for Eric Drooker's
rejected 9/11 New Yorker cover
. I was intrigued by the snippet of a 1953 film called
Little Fugitive
, showing a little boy buffeted by the crowds at Coney Island. It has the look of a neo-realist film.
The Jewish Contemporary Museum is a fortress. Before entering I had to unzip all the compartments in my shoulder bag for inspection & go through their metal detector twice. When I pulled out a pencil to take notes, I was warned not to bring any writing implements into the
Ezra Keats
exhibit.
§ The Radical Camera: New York's Photo League, 1936–1951
Contemporary Jewish Museum
On view through January 21, 2013