Though thwarted by ridiculous rush-hour traffic earlier in the week, I was determined to see these travel sketches by
Charles Schulz
at his
museum in Santa Rosa
. I made it on Sunday, the last day of the exhibit. On view are 14 landscapes & travel scenes made by Mr. Schulz while on vacation in France, Yosemite & England. They are realistic & observational in a way that the Peanuts is not, yet the comic strip characters would not look completely out of place in them. Mr. Schulz used relatively crude tools, such as marker pens & crayons, & the pictures were never meant for display. The pleasure in making them is evident, even if 3 watercolors made in 1991 have actually been neatly torn into quarters. These were discarded by Mr. Schulz but salvaged & re-assembled by his wife Jean.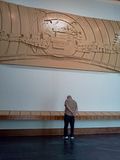 The museum also currently has a show of Pop Art works inspired directly by the comics. It was a nice bonus to see a strangely poignant
Superman
by Mel Ramos & a sparkly
portrait of Mickey Mouse
by Andy Warhol. The museum is staffed by eager & elderly volunteers who make it a point to converse with every visitor.
§ A Change of Scene: Schulz Sketches From Abroad
June 8 to October 2, 2011

Pop'd From the Panel
June 25 to December 11, 2011

Charles M. Schulz Museum