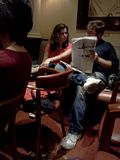 The fall season of the intimate
Salons at the Rex
opened with the
Adam Schulman Trio
performing a set inspired by the Nat King Cole Trio. Pianist
Mr. Schulman
joked at the start, "I'm not going to sing." Instead, the trio paid homage to Nat King Cole as a pianist. They evoked the cool side of the 1950s so easily that after the opening song I regretted not sitting down with a martini.
Jack Riordan
was laid-back on the amplified guitar, even when executing rapid runs. It feels like Mr. Schulman plays just the right number of notes, whether doing a solo or accompanying.
John Wiitala
looks very happy on the bass & seems to flick the notes out of his instrument.
As is usual at these events, the music lasted for about an hour, & there was a short Q & A afterward. The audience was relaxed & absorbed, though a woman across the room from me texted throughout the music. I could hear the clicks on the virtual keyboard of her iPhone.
Due to up-coming construction at the Rex, next year the salon series will relocate to a penthouse-like room on the 16th floor of the
Hotel Adagio
. Even though the hotel's lounge is far away on the ground floor, I was assured that there would be a bar in the room for the performances.
§ Adam Schulman Trio
Salons at the Rex

Adam Shulman, piano
Jack Riordan, guitar
John Wiitala, bass

Will You Still be Mine?
Straighten Up & Fly Right
Moon Ray
Somebody Loves Me
After You've Gone
Don't Blame Me
Is You Is or Is You Ain't My Baby
I Didn't Know What Time it Was

Wednesday, October 5
6:30 pm
Hotel Rex