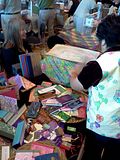 Over the weekend I made a field trip to Los Altos to check out the
Book Arts Jam
at Foothill College. It's an expo of book arts put on by the volunteer
Bay Area Book Artists
organization. The friendly exhibitors almost always want you to handle their creations, which can be made of almost anything. I saw books made of sailboat sails, computer motherboards, cardboard coffee sleeves, & even other books. The level of artistry can be very high. A gorgeous volume from
Artichoke Press
contains photographic images printed onto both sides of nearly transparent tissue paper.
Judith Hoffman
displayed a delightful
pinhole camera shaped like a dinosaur
which she used to photograph other dinosaurs, of course. There seems to be a growing interest in book arts, & more than one of the exhibitors expressed the opinion that as the book is becoming obsolete, it is turning into more of an art form.
§ Book Arts Jam 2011
Saturday, October 15, 10 am - 4 pm
Foothill College, Los Altos