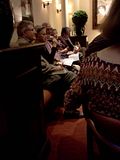 Soprano
Leah Crocetto
& pianist
John Churchwell
entered the
salon at Hotel Rex
with glasses of red wine & toasted one another before beginning their program of opera, art songs & torch songs. Ms. Crocetto told us this was her 1st time performing with Mr. Churchwell, so "We just want to have fun tonight." Ms. Crocetto's voice is robust, with real body & weight, though she was careful not to blast us in that small room. Her
Non mi dir
from Don Giovanni was strong, clean & even. She sustained a mood of anguish & yearning in her set of Rachmaninoff songs in Russian & easily plucked a high note out of thin air in
How Fair This Spot
. In Strauss's
Cäcilie
, her voice seemed to push against the walls of the room. She ended Liszt's
O Quand Je Dors
with a beautifully hushed & suspended note & made
Pace non trovo
feel like an operatic scene.
Ms. Crocetto threw in 2 colorful songs in Spanish not listed on the program, one of which included her convincing imitation of a mosquito. In homage to her previous life as a night club singer in New York, she ended with a set of torch songs. She changed singing styles completely & did not simply sound like an opera singer in a different kind of repertoire.
With Every Breath I Take
&
Cry Me a River
made me feel I was in one of those New York night spots, weeping into my scotch. Mr. Churchwell was also equally at home in both styles, & I liked his involved accompaniment. He has an unusual way of playing with very flat hands, & he breathes heavily with the music.
Ms. Crocetto has a warm personality, & she introduced each song for us, sometimes adding personal stories, all in a light way. Looking out at the audience, she told us she recognized many "repeat offenders," & halfway through she paused to ask, "Is everyone doing ok?" After the 75 minute performance, the audience formed a reception line, & Ms. Crocetto delightedly greeted her fans with thank-yous & hugs.
§ Salon at the Rex
San Francisco Performances


Leah Crocetto, soprano
John Churchwell, piano

Mozart: "Crudele? Ah, no mio bene!... Non mi dir" from

Don Giovanni



Rachmaninoff:
Oh, Never Sing to Me Again
How Fair This Spot
Loneliness

R. Strauss:
Die Nacht
Cäcilie

Lizst:
O Quand Je Dors
Pace non trovo
from

Tre Sonetti del Patrarca



2 Songs in Spanish (Not listed in the program)

Fain & Kahal: I'll be Seeing You
Coleman: With Every Breath I Take
Hamilton: Cry Me a River
Tesori: Girl in 14G

6:30pm, Wednesday, October 19, 2011
The Hotel Rex