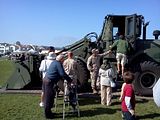 Fleet Week festivities have been unavoidable for those of us in the Marina. The Blue Angels started rattling windows on Thursday. Besides the airshow, there was a fair on the Marina Green with plenty of family-friendly fun, like these over-sized military vehicles that are like giant toy trucks.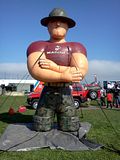 Not sure what this inflatable Marine figure was all about. Navy representatives gave me a free "Property of U.S. Navy" T-shirt, though. Oracle had a presence too. It sponsors one of the stunt planes & has its own big guest tent.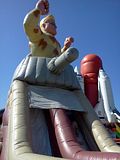 This was part of an inflatable obstacle course for kids to run, slide, crawl, climb & squeeze through.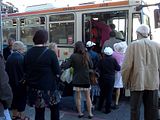 The crowds rendered Muni unusable, & I was nearly trapped in the neighborhood on Saturday night. To get to a performance at the Opera House, I resorted to walking the whole way. During the half hour I walked on Van Ness from Union Street to McAllister, not one Muni bus passed me.