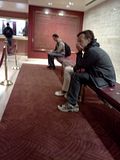 On Friday I heard my 1st
San Francisco Symphony

concert
of the season. This was at the kind invitation of
John Marcher
, who himself arrived direct from an afternoon at Hardly Strictly Bluegrass. The program opened with Mozart's
Haffner
Symphony. There was a large string section, & the orchestra played with a full, rich sound & tight ensemble, though the interpretation was a bit blunt. I heard an unchararcteristic squawk from the woodwind section in the
Presto
.
A long screen divided into 3 frames was lowered over the orchestra for
Thomas Adès
's
Polaris
. The huge orchestra included 2 harps, & the brasses were arrayed in 5 groups around the terrace. The piece opens with a flurry of notes from the piano but soon involves the entire orchestra. The brass players always seem to enter in sequence, from highest to lowest, & it was fun to hear some extremely low notes from the tuba. There were also piercingly high pitches on the violins & piccolos. The piece is atmospheric & evoked tides & the sea for me. It builds to a dark climax near the end, & its 15 minutes felt short. The accompanying video triptych depicted stars, circular openings & 2 women grappling with seaweed on a rocky beach. It looked like we were watching the same movie started at different times on each screen. Mr. Adès & filmmaker
Tal Rosner
appeared on stage for the ovations. The poor 1st stand violinist dropped her bow when she stood up to shake hands with MTT. I hope her bow was not damaged.
Every section of the orchestra played out for
Petrushka
. The principals punched out their solos, making the piece into a concerto for orchestra. Ensemble was tight, & the orchestra made a brash sound. As a bonus, MTT gave us Stavinsky's toe-tapping
Scherzo à la Russe
. On the last note the entire orchestra stood & faced us triumphantly, a maneuver executed with startling synchronization.
§ MTT conducts Mozart, Adès, and Stravinsky
San Francisco Symphony
Michael Tilson Thomas, conductor
Tal Rosner, video artist

MOZART: Symphony No. 35 in D major, K.385, Haffner
ADÈS: Polaris: Voyage for Orchestra (with film by Tals Rosner) (2010)
STRAVINSKY: Petrushka (1947 Version)

Encore:
STRAVINSKY: Scherzo à la Russe

Fri, Sep 30, 2011 8:00pm
Davies Symphony Hall