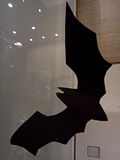 BluePrint
, the new music series at the San Francisco Conservatory of Music, began its 10th season Saturday night with an ambitious & entertaining
program
. Mezzo
Julienne Walker
was soloist for John Harbison's
North and South
, a song cycle on poems by Elizabeth Bishop. The songs, accompanied by a septet of strings & woodwinds, depict a woman suffering in love. The music is picturesque & often bluesy. Ms. Walker has a bright voice & a natural, easy sound, as well as a relaxed manner on stage. She dedicated her performance to her mother, in recognition of her 65th birthday.
Violinst
Axel Strauss
was soloist in
Concertino for Solo Violin & Small Ensemble
by local composer
Kurt Rohde
. The 20 minute piece is modeled after a Baroque concerto & uses an ensemble of 8 strings, woodwinds & percussion. Everyone seems to have very independent lines, & the 2 percussionists were kept busy going back & forth between their instruments. Mr. Strauss has a thick, unbroken sound, & his playing is both gutsy & smooth. He executed a fiendish all-pizzicato cadenza with ease, & his long double-stops in the 2nd movement were beautifully even. The rapid-fire 3rd movement was exciting & ended abruptly in mid-air, at which point all the musicians were smiling. Maestra
Nicole Paiement
was a precise & joyful conductor throughout. Mr. Rohde was present & came on-stage to take a bow with the performers.
Shulhoff's
Concerto for Piano
required a percussion-heavy orchestra of about 40. The 20 minute piece feels both romantic & modern & is instantly accessible. There's an eerie chromatic theme, frequent changes of mood & a noisy, jazz-inspired climax. I liked hearing the siren, which made me think of Antheil's
Ballet Mécanique
. Pianist
Keisuke Nakagoshi
displayed fast fingers & a calm demeanor & was a clear audience favorite.
The program ended with brief excerpts from Harbison's opera version of
The Great Gatsby
. We heard a fast journey by car, real car horn included, & then a tense lovers' fight between mezzo
Erin Neff
& baritone
Bojan Knezevik
. Ms. Neff even threw herself to the floor at the end of the scene. This was but to whet our appetite for Ensemble Parallèle's
production
coming next February. It already looks dramatic.
§ BluePrint | North and South
Nicole Paiement, artistic director & conductor
New Music Ensemble

John Harbison: North and South
Julienne Walker, mezzo-soprano

Kurt Rohde: Concertino for Solo Violin & Small Ensemble (2010)
Axel Strauss, violin

Erwin Schulhoff: Concerto for Piano & Orchestra, Op. 43
Keisuke Nakagoshi, piano

Harbison: Excerpts from The Great Gatsby
Chamber orchestration by Jacques Desjardins
Myrtle: Erin Neff, mezzo-soprano
Wilson: Bojan Knezevik, baritone

October 22, 2011 8:00 p.m.
Concert Hall, San Francisco Conservatory of Music