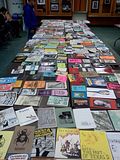 I spent Saturday afternoon at the
SF Zine Fest
in Golden Gate park. It was bigger than
last year
, with the exhibitors taking up an additional room. Despite a hard sell from the fast-talking
Geoff Vasile
, I only bought one issue of his
Track Rabbit
mini-comic, but I'll be back for more. It was fun to encounter mail art maven
Jennie Hinchcliff
again
. She told me the lame postscript to the story of the
wedding china sent through the mail
. The unreasonably creative
Peter S. Conrad
fabricated a comic in the form of a scratch-off lottery card. The reader scratches off squares to reveal the story.
Hamburger Eyes
spread their table with piles of photography zines, & the raw beauty of the covers alone was stunning.
I saw a lot of hand-stitched bindings & multicolored silkscreen covers. Monsters & robots are popular subjects for the illustration art.
Ben Catmull
's gorgeous prints of monsters imitate Renaissance woodcuts & have embossed backgrounds. My friend pointed out plenty of "owls, mustaches & whales" as well.
At the end of the afternoon I attended a
panel
on memoir comics. Creators
Jason Martin
,
Joey Alison Sayers
,
MariNaomi
&
Rina Ayuyang
discussed the risks of personal exposure & the way truth sometimes needs to be manipulated for the sake of story. Mr. Martin is a Gen-Y Harvey Pekar in
Papercutter
#17, & he amusingly commented on the challenges of drawing his hair. The phenomenal
Justin Hall
moderated & manged to work in references to porn names & Proust.
§ 10th Annual San Francisco Zine Fest
September 3 + 4, 2011
11am - 6pm
San Francisco County Fair Building
Golden Gate Park