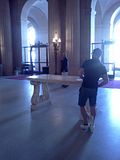 Tuesday afternoon, thanks to a thoughtful SF Opera super, I saw the 1st two acts of the final dress rehearsal of
San Francisco Opera's

Lucrezia Borgia
. The production opens this Friday night. Since it stars
Renée Fleming
, there was a great deal of excitement among the rehearsal attendees. Like me, no one seemed to be familiar with the opera itself. I joked that given the subject matter & the composer, people must get poisoned to the accompaniment of a drinking song, & it turns out that this is exactly the case. The poor tenor even gets poisoned twice!
Ms. Fleming sang half-voice in the acts I heard, but tenor
Michael Fabiano
sounded like he is going to be great. His voice is strong, ringing & masculine, & he has a young & handsome stage presence. Mezzo
Elizabeth DeShong
has a tightly focussed sound & is a pert Orsini. The role reminded me of the page Oscar from
Un Ballo
. Bass
Vitalij Kowaljow
has a big, dark sound, & is intimidating as Lucrezia's abusive husband, the Duke of Ferrara. It was nice to hear that the orchestra's brass & woodwind sections have lost none of their glow from this summer's Ring Cycle.
The production has a Renaissance setting, & some of the costumes have headgear with gold spikey things coming out of them. The set is dominated by a broad staircase & towering stone walls. There seem to be dungeons beneath the stage, & a woman is chased around by a man with a whip in act II. All the scenes are dimly lit, as if everything were happening at night.
SFMike
was somewhere on stage as a torch-bearer at the end of act I, trying vainly to illuminate the gloom.

§ Lucrezia Borgia
by Gaetano Donizetti

San Francisco Opera
Conductor: Riccardo Frizza
Director: John Pascoe

Apostolo Gazello: Austin Kness
Ascanio Petrucci: Ao Li
Maffio Orsini: Elizabeth DeShong
Jeppo Liverotto: Christopher Jackson
Oloferno Vitellozzo: Brian Jagde
Gubetta: Igor Vieira
Gennaro: Michael Fabiano
Lucrezia Borgia: Renée Fleming
Duke Alfonso: Vitalij Kowaljow
Rustighello: Daniel Montenegro
Jeppo Liverotto: Christopher Jackson
Astolfo: Ryan Kuster
Princess Negroni: Blance Hampton
Ladies of the Court: Mary Finch, Claire Kelm, Sally Mouzon, Sally Monro
A Voice: Jere Torkelsen

Dress Rehearsal
Tuesday 9/20/11 · 3:00 PM
War Memorial Opera House