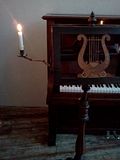 On Saturday night I attended this
musical salon
featuring piano improvisations & Charlie Chaplin movies. The venue is a
piano showroom
that opens onto the
art gallery
next door. Attendees were asked for a $25 - $30 donation, after which they received a glass of wine & mingled among the pianos being restored. There was a 50 minute performance featuring 3 young musicians, who I assume are or were students at the
SF Conservatory of Music
. Pianist
Chad Thomas
played 2 preludes by Nicolai Kapustin which sound exactly like lounge piano improvisations but are actually completely written-out compositions based on classical forms. Soprano
Elizabeth Hertzberg
sang the Bach aria "Bist du bei mir" in a soothing, velvety voice. Pianist
Adrian Borcea
then played 6 movements from Bach's keyboard
Partita No. 6
. After each movement, a short excerpt from a Chaplin film was projected on the wall overhead, accompanied by Mr. Borcea improvising on a theme from the movement. We saw bits of
The Great Dictator
,
Modern Times
,
The Kid
(with Turkish intertitles) &
The Circus
. Mr. Borcea played a 19th century piano whose brittle sound I never quite got used to. Finally, we heard a lively composition by Mr. Borcea for 2 pianos. The pianos were mis-tuned with one another, creating a honky-tonk feel. It reminded me of a score for a Fellini movie.
The evening was hosted by the wry & nattily dressed
Tibor Szabo
. After the performance he brought out bread, salad, a huge platter of pasta & a tray of pastries. The attendees spent the rest of the evening socializing. There were about 25 of us, but apparently these events can be much more crowded. The audience ranged from students to a lady, dressed as if for opening night at the opera, who admitted to her 60s.
§ Salle Pianos: Chaplin And Bach

Nicolai Kapustin: Preludes 23 & 19
Chad Thomas, Piano

Bach: Bist du bei mir
Elizabeth Hertzberg, soprano
Adrian Borcea, piano

Bach: Partita No.6 in E minor, BWV 830
Adrian Borcea, piano

Adrian Borcea: Work for 2 pianos, title not announced
Adrian Borcea, Chad Thomas, pianos

Saturday, 3 September 2011
7:pm wine reception 7:30 pm Concert