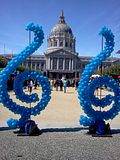 Despite early morning clouds, it was pleasant weather & blue skies for the
San Francisco Symphony

's free noontime concert at Civic Center
on Thursday. The Symphony is celebrating its centennial season in a big way, & I admittedly came more for the atmosphere than the music. Almost the first person I saw when I arrived was
SFMike
, blissfully rocking out to John Adams's
Short Ride in a Fast Machine
. The crowd went back at least two-thirds of the length of the plaza. Though I stood near the back, I could see
Lang Lang
's head-banging moves during the Liszt
Piano Concerto No. 1
, though his interpretation was actually quite controlled & well-proportioned. In the Britten
Variations
, the different sections of the orchestra played their solos with keen articulation. The amplification was not overdone, & the balances did not sound distorted.
After the program an excitable
Mayor Ed Lee
presented the orchestra with a proclamation, & MTT was cheeky enough to ask for free parking as well. Mr. Lee asked Lang Lang "to get back on the piano" & asked the audience to sing
Happy Birthday
loud enough to be heard in China. The plaza was decorated with balloons & a large birthday cake, which caused the people around me to make inappropriate jokes about MTT jumping out of it.
§ Free San Francisco Symphony Concert in Civic Center Plaza
Michael Tilson Thomas, conductor
Lang Lang, piano
San Francisco Symphony

John Adams
Short Ride in a Fast Machine

Liszt
Piano Concerto No. 1 in E-flat major

Britten
The Young Person's Guide to the Orchestra

Thu, Sep 8, 2011 11:30am
Civic Center Plaza