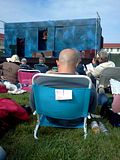 Sunday afternoon I saw the closing performance of
Cymbeline
, performed outdoors in the Presidio by
Free Shakespeare in the Park
. The production has a Steampunk look, with the cast in Victorian clothing & a soothsayer wearing goggles. The stage is strewn with trunks & furniture from a child's nursery. A mute little girl pops up a few times, & the 1st scene is staged as a story being read to her.
The dedicated cast of 9 did a lot of doubling & tripling up on roles. Casting
Craig Marker
as both Posthumus & Cloten works so well that the actor can switch parts without leaving the stage. His clownish Cloten hasn't quite learned to walk on 2 legs.
Caitlyn Louchard
is cast convincingly as the boy servant Pisanio.
Emily Jordan
gave a consistently solid performance as an angry Innogen. She provided a strong anchor for this somewhat unfocussed play. I liked how actor
Julian López-Morillas
communicates the text so plainly. The production, perhaps reflecting the play, had an uncertain tone. There was an enjoyably grotesque moment, though, when Cloten waved his sword menacingly at us to the accompaniment of the Tiger Lillies's "Kill You on a Monday."
The SF Shakes audience sat patiently through the nearly 3 hour show, applauded the ends of scenes, laughed freely, & hissed at one of Iachimo's exits. The cast uses wireless head mics, but the amplification frequently cut in & out. An announcement was made that this weekend's performances were dedicated to SF Shakes CFO & Board Member
Keith Taylor
, who "died in a senseless car crash" earlier in the week.
§ Cymbeline
Free Shakespeare in the Park
Directed by Kenneth Kelleher

Chris Ayles (Cymbeline / Cornelius / Sicilius / Jailor)
Craig Marker (Posthumus / Cloten)
Emily Jordan (Innogen)
Sharon Robinson (Queen / Soothsayer / Jailor)
Caitlyn Louchard (Pisanio)
Galen Murphy-Hoffman (Iachimo)
Julian López-Morillas (Philario / Belarius / Jupiter)
Michael Bates (1st Gentleman / Guiderius / Caius Lucius)
Carl Holvick-Thomas (2nd Gentleman / Arviragus / Frenchman)

The Presidio's Main Post, Parade Ground Lawn
Sunday, Sept 25 at 2:30 PM