September 4–5, 2010
County Fair Building, Golden Gate Park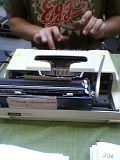 On Saturday afternoon I was in Golden Gate Park for
SF Zine Fest 2010
. The event was small but busy. I saw no empty tables as I did last year, & I even met a couple of
exhibitors from the UK
. A few enterprising people were peddling food outside as well.
I could not pass up
Map of Fog
, an old-school zine of stories of living in San Francisco, beginning with the line "San Francisco is a city of nerds."
Paper Dummy
had a story that was ingeniously packaged inside a cassette tape case, but its creator annoyingly refused to reveal the sealed contents, & $20 was just too steep for me. I liked
MilkAndTea
's
The Kitchen
, a book inspired by
craigslist
postings from restaurant workers, the quotes cleverly formatted as menus. This brief book is spare, thoughtful & bold, & it has nothing good to say about the food service industry.
Even though he has written his last zine,
John Marr
was tabling, in the hopes of unloading his remaining stock of
Murder Can Be Fun
. I felt lucky to get the last copy of
Robert Kirby
's new anthology,
Three
, from the hands of
Joey Alison Sayers
, a contributor to the issue.
Void Where Prohibited
sat at a portable manual typewriter on which he offered to write a 30-second story for 25¢. Before starting, he asked me for a name or a situation. I said "Axel", & that was all he needed to hammer out this story: