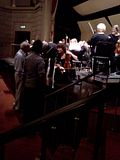 Friday night I attended this
Philharmonia Baroque
concert featuring instrumental works of the classical period. The program began with a detailed & well-prepared performance of Mozart's
Prague Symphony
.
Nicholas McGegan
conducts with variety & made the different sections of the piece clear. I liked the way the timbres of the 18th century flutes & trumpets stood out. The timpani, though nearly off-stage, made a great rolling sound, & I felt it as much as heard it. The ending of the
Allegro
was taut, & the
Presto
was crisp & built nicely to an energetic finale.
R.J. Kelley
was soloist for a pastiche Mozart horn concerto constructed from movements of 2 unfinished concertos plus the slow movement from the 4th concerto. He played a natural horn with no valves, keeping his right hand up the bell while blowing into what looks like a coiled garden hose. It sounds softer & mellower than a modern French horn & seems to be the world's most difficult instrument to play. Mr. Kelley's performance was cautious, but he coaxed hesitant runs, turns & trills out of the thing. He began his cadenza by eerily sounding 2 notes at once. In the pause before the 3rd movement Mr. Kelley sipped water from a plastic bottle, & Maestro McGegan comically mimed giving the horn a drink as well. People seated in my row applauded & stamped their feet enthusiastically for Mr. Kelley.
After intermission we heard an overture by Franz Ignaz Beck, a prolific composer whose works are now almost completely lost. It opens with a gloomy introduction & has contrasting episodes that feel theatrical & are reminiscent of Gluck. The performance ended with a bright & cheerful performance of Haydn's
Symphony No. 98
. The phrasing was always clear & pointed. Maestro McGegan playfully conducts with his knees & shoulders as well as his hands. Sometimes he flings the music over his head or slaps the orchestra. I like the way he alertly conducts silences. The final presto skipped along, & Maestro McGegan's teasing gestures caused the woman next to me to giggle out loud. McGegan contributed sprightly arpeggios on the fortepiano during the finale.
§ Mozart & Haydn: A Tale of Two Cities
Philharmonia Baroque Orchestra
Nicholas McGegan, conductor
R.J. Kelley, horn

MOZART: Symphony No. 38 in D major, K. 504
MOZART : Concerto pasticcio for Horn in E-flat major, K. 370b/495/371
BECK: Overture from La mort d'Orphée
HAYDN: Symphony No. 98 in B-flat major

Fri., Sep. 23, 2011, 8 PM
Herbst Theatre, San Francisco