Wednesday evening
San Francisco Performances
presented jazz pianist
Vijay Iyer
in the Salon at the Rex. He played 6 improvisations, lasting from 5 to 20 minutes, & the event ran about an hour. He usually started in a subdued manner, repeating patterns of notes quietly. A moderate rhythmic flow then develops. Sometimes it sounded like space music. The playing might be gently chordal, or Mr. Iyer might execute long chromatic runs, his fingers hitting the keyboard forcefully. A few times he settled into melodic, toe-tapping sections. All the numbers ended softly. The overall mood was pensive & a bit melancholy. I did not recognize any of the tunes, but during his brief remarks Mr. Iyer named Andrew Hill's
Siete Ocho
,
Somewhere
, the theme for ESPN, & Billy Strayhorn's
Blood Count
. Mr. Iyer is soft-spoken & has a pacific presence. He dedicated one number to a friend "who is no longer here." He evidently attracts an intellectual audience. People on both sides of me were reading scientific texts while waiting for the performance to begin, & during the Q&A mention was made of the neuroscience of music, embodied cognition, &
Mr. Iyer's dissertation
.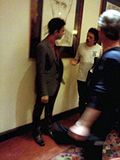 § Vijay Iyer, piano
Salon at the Rex
Wednesday, April 10, 6:30pm
Hotel Rex