Sunday evening
MusicSources
presented
Christophe Rousset
in a harpsichord recital of suites by Couperin, Rameau & Royer. Mr. Rousset is a focused & intelligent performer. His playing was weighty, & the individual voices were always clear. There were occasional catches in his rhythmic flow, & he never sounded metronomic. His releases are precise. He stamped his foot during heavier passages.
We heard a privately owned harpsichord built in Berkeley by
John Phillips
. The instrument has 2 keyboards, & Mr. Rousset could mechanically vary its timbre somewhat. It sounded very resonant under his hands. The high notes were particularly bright & clangy in the Couperin pieces. The repeated notes in Rameau's
La Poule
humorously evoked pecking. Mr. Rousset gave the selections from Rameau's
Les Indes galantes
an emphatic dance feel. The concluding suite by Royer had a fuller sound and virtuosic effects. There were long trills in
La Zaïde
& fat, drone-like chords in
Tambourin
.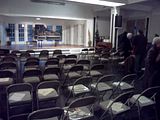 The intermissionless performance lasted under 90 minutes. The audience of about 90 were attentive & applauded Mr. Rousset appreciatively. His hands became a blur in a vigorous encore by Royer. Mr. Rousset called his 2nd encore, a decorous piece by Rameau, "more civilized." The setting was a hall in the
Northbrae Community Church
. The harpsichord was on a raised area with picture windows behind. A side door kept opening by itself & had to be repeatedly closed during the music, & then a slow-moving lady used it as an exit midway through. The church's folding chairs got a bit uncomfortable. Wine & refreshments were served prior to the performance.
§ Christophe Rousset, Harpsichord
L'exotisme au clavecin

Francois COUPERIN (1668-1733)
Quatrième Livre de Pièces de clavecin (1730)
Vingt-septième ordre (si mineur)

Jean-Philippe RAMEAU (1683-1764)
Nouvelles Suites de Pièces de clavecin (1728)
Suite en sol

Les Indes galantes (1728)
Suite de ballet transcrite pour clavecin (1735)

Joseph Nicolas Pancrace ROYER (1705-1755)
Premier livre de Pièces pour clavecin (1746)
Suite en ré

Sunday, April 7, 2013 6p
Northbrae Community Church, Haver Hall
Berkeley