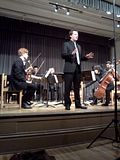 Friday night I attended the 1st performance of
Curious Flights
, a new chamber music series featuring audience-friendly contemporary music. Each of the works on the program required a different combination of personnel, so there were quite a few participants. Clarinetist & series founder
Brenden Guy
introduced the concert & explained that proceeds from the season aid international students at the
SF Conservatory of Music
. Soprano
Indre Viskontas
gave inviting & appropriately wry renditions of satirical songs about science by
composer
&
San Jose State physics professor
Brian Holmes. Pianist
Ian Scarfe
accompanied her tidily.
Valinor Winds
premiered
Joseph Stillwell
's
Fantasy Pieces
for wind quintet. The piquant 1st movement, full of contrasting short phrases, is attention-grabbing & slightly edgy. The 2nd movement, a scherzo, is rapid & stuttering & of course gives the punchline to the bassoon. Melodic lines interweave continuously in the elegiac 3rd movement. The 4th movement features a pointed, jaunty theme of notes all the same length. Mr. Stillwell does a good job keeping each instrument involved, no one voice dominating. I like the way the pieces simply come to a stop without much ado. The performers seemed at ease with the music, & Mr. Stillwell took a bow with them.
The 1st half ended with the
Aleron Trio
's raucous & angular performance of Paul Schoenfield's
Cafe Music
. The music is jazzy, toe-tapping, tuneful, & fun. It has a lot of notes, & the racing final movement could have accompanied the chase scene in a silent movie.
In his prefatory remarks about Khachaturian's Trio for Clarinet, Violin and Piano, violinist
Kevin Rogers
told us that parts of the 3rd movement reminded him of Philip Glass, & he made clear which passages by his body language during the performance. I like his incisive playing. Mr. Guy's playing was exuberant, & pianist
Miles Graber
made a weighty sound.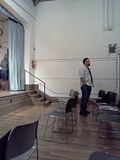 The program ended with the Nonet by Arnold Bax, conducted by Mr. Guy. The ensemble played with clarity & alertness, & Mr. Guy engagingly kept the music active & flowing. A lush climax in the 1st movement bloomed nicely. Cellist
Michelle Kwon
's playing was emphatic and grounded. The 1st Curious Flights audience was small but attentive, & the event had the collegial atmosphere of a chamber music party.
Patrick has provided a more comprehensive account
here
.
§ Curious Flights Inaugural Concert
Cultural Fusion

Updike's Science, Brian Holmes (b. 1946)
Indre Viskontas, soprano
Ian Scarfe, piano

Fantasy Pieces, Joseph Stillwell (b.1984) (world premiere)
Valinor Winds
Sasha Launer, flute
Jessie Huntsman, oboe
Brenden Guy, clarinet
Alexis Luque, bassoon
Caitlyn Smith, french horn

Cafe Music, Paul Schoenfield (b. 1947)
Aleron Trio
Solenn Seguillion, violin
Anne Suda, cello
Sophie Zhang, piano

Trio for Clarinet, Violin and Piano, Aram Khachaturian (1903-1978)
Brenden Guy, clarinet
Kevin Rogers, violin
Miles Graber, piano

Nonet, Arnold Bax (1883-1953)
Curious Flights Chamber Ensemble
Sasha Launer, flute
Jesse Barrett, oboe
Dan Ferreira, clarinet
Emily Laurance, harp
Kevin Rogers, violin
Tess Varley, violin
Tracy Wu, viola
Michelle Kwon, cello
Eugene Theriault, double bass
Brenden Guy, conductor

Friday, April 26, 2013 at 8 p.m.
Community Music Center, San Francisco