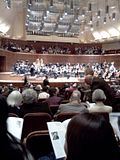 Thursday evening
I heard baritone
Matthias Goerne
sings excerpts from
Der Fliegende Holländer
&
Die Walküre
with the
San Francisco Symphony
, conducted by
Christoph Eschenbach
. Mr. Goerne makes a distinctive, beautifully dark, viscous sound. Even though he takes frequent breaths, he always maintains a long, connected line. "Die Frist is um" from
Der Fliegende Holländer
sounded ghoulish & brooding. His singing was velvety & tender in the quiet moments of
Wotan's Farewell
. His diction was mushy, & my concert companion joked that he only seems to be have 2 vowels. Mr. Goerne did not act his scenes. He makes circular swaying motions as if he is molding the sound inside his body before releasing it. The orchestra under Maestro Eschenbach played both very softly & very loudly. Mr. Goerne sang his selections from memory, & his voice merged with the overall texture rather than rising above it.
The 2nd half of the program was Dvořák's
New World Symphony
, which Maestro Eschenbach led without a score. His movements are eccentric, & he sometimes seems to be conducting along with the orchestra rather than directing it. The strings were shimmering, though the orchestral balances felt unstructured. Maestro Eschenbach lingered on one of the 1st movement's secondary themes played by the solo flute & then the violins. He elongated the famous second movement. The 3rd movement had a rhythmically off-kilter feel. The viola section played a nicely coordinated passage in the 4th movement.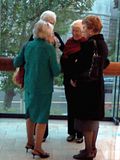 The audience enjoyed Dvořák, applauding & even whistling after the 1st movement, then giving the concert a standing ovation. A patron in premier orchestra left quickly during the 4th movement. The gentleman next to me made involuntary throat-clearing noises frequently. He sounded like a dog having a bad dream, & many glanced in his direction throughout the evening.

§ Eschenbach Conducts Dvořák
Christoph Eschenbach, conductor
Matthias Goerne, baritone
San Francisco Symphony

Wagner
"Die Frist is um" from The Flying Dutchman

Wagner
Wotan's Farewell from Die Walküre

Dvořák
Symphony No. 9, From the New World

Fri, Apr 26, 2013 at 8:00pm
Davies Symphony Hall