Yesterday at lunchtime I visited the
McLoughlin Gallery
in 49 Geary to see an installation of life-size objects cunningly constructed out of recycled cardboard by
Cristobal Valecillos
. This child's bicycle looks like it could actually work. I like its DIY woven basket.
Objects such as a country mailbox, a lawnmower, & this surveillance camera evoke suburban home life. The largest piece is a one-room house, completely made of used cardboard & large enough to walk inside. It is a grand version of those forts kids make out of an empty cardboard box, & I felt secure being inside it.
The cardboard objects also appear in accompanying photographs of models posing as a multiracial family. I had a nice chat with the gallery proprietor, who shared her thoughts on the social context of the work. She also let me sit in the exhibit's cardboard armchair.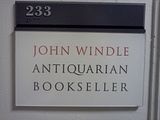 On my way back to the elevator, I was surprised to notice a door opening into an
antiquarian bookstore
. 2 steps in & I felt like I was in a small London bookshop. Their specialty is William Blake & illustrated books, but I was too intimidated to take any of the volumes off the shelves. I had a brief but delightfully pithy conversation with the bookseller, who averred that the next generation is growing up without physical books.
§ The McLoughlin Gallery
American Family
Cristobal Valecillos
Exhibition runs until April 27th

§ John Windle
Antiquarian Bookseller