I was happy to get to a screening on Saturday at the
SF International Film Festival
, which opened last Thursday. The documentary
Google and World Brain
concerns
Google Books
, Google's project to build an on-line universal library. When the corporation starts scanning copyrighted texts without authors' permissions, it gets into legal & political trouble.The film consists of pristinely photographed interviews with librarians, technologists, & authors, plus intertitles, soaring shots of libraries, archival footage, & bad animations. I wish it included more of a TV appearance by the 17-year-old
Ray Kurzweil
on
I've Got a Secret
. The filmmakers assume that copyright is a good thing & raise issues about the purpose of libraries, the monopolization of access to information, & on-line privacy. Interviewees speak English, Spanish, French, German, Mandarin, & Japanese, envincing Google's global reach. Google did not permit interviews with its employees talking about Google Books specifically, & it comes across as predatory, secretive, & arrogant.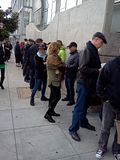 The screening was at rush, & the audience seemed to be as skeptical of big Internet companies as the film. I would have liked to know how many Google employees attended. Festival programmer
Sean Uyehara
introduced the show & observed that since we can look up anything online right away, we don't wonder as much.
§ Google and the World Brain
Ben Lewis, dir; 2013, 89 mins, England, Spain
The 56th Annual San Francisco International Film Festival
Sat, 4/27 6:45 PM New People
Sun, 5/5 6:30 PM Sundance Kabuki Cinemas