On Tuesday night,
San Francisco Performances
presented pianist
Benjamin Grosvenor
at the
SF Jazz Center
, in a gift concert for subscribers. Mr. Grosvenor is just out of his teens but already has an international performance schedule & a recording contract with
Decca
. He played his opening set of Bach transcriptions with great delicacy & dynamic control. The Beethoven Sonata No. 4 sounded crystalline, every note distinct & separated. The rests in the opening bars of the 2nd movement were well-defined. The 3rd movement was dainty, the concluding Rondo fast but fine-edged.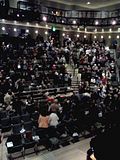 After intermission, Mr. Grosvenor gave a set of Mazurkas by Scriabin a buoyant, floaty feel. A
Valse
by Scriabin & a
Polonaise
by Chopin sounded light & iridescent, with neatly played chords & runs. The 2nd half closed with a flowery showpiece version of the
Blue Danube
. It seemed to have as many notes as the rest of the program combined, & Mr. Grosvenor sustained its rippling passages with astonishing fleetness. He played the recital from memory & with cool aplomb. His hands stay close to the keyboard. The audience was attentive & quiet, though a few latecomers entered the hall during the music. Mr. Grosvenor received a scattered standing ovation, & his
Boogie Woogie
encore evoked laughter.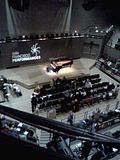 In her introductory remarks, SF Performances President
Ruth Felt
told us this was the first classical concert held in the SF Jazz Center, which is one of the spaces that SF Performances will use while Herbst Theatre is closed for renovation. The steep seating puts everyone close to the stage. I like the convenient cup holders & ledges for drinks. The topmost seats on the side balcony are definitely not for those with a fear of heights. I did not arrive early enough to grab a ground floor seat, so for the 1st half I sat in the side terrace behind the pianist. The piano sounded perfectly clear if a bit dry. After intermission I moved to the center of the 3rd floor balcony, where the sound was more filled out. The seats up there are swivel bar stools, & a woman seated one over from me swung herself back & forth when bored.
§ Benjamin Grosvenor, piano
Special Gift Concert
San Francisco Performances

BACH/KEMPFF: Siciliano in G minor (from Flute Sonata No. 2 in E-flat Major, BWV 1031)
BACH/RUMMEL: Ertödt' uns durch dein' Güte (movement 5 of "Jesus nahm zu sich die Zwölfe", BWV 22)
BACH/SILOTI: Prelude in E minor, BWV 555
BACH/SAINT-SAËNS: Largo (from Sonata No. 3 in C Major for solo violin, BWV 1005)
BACH/SAINT-SAËNS: Sinfonia (from Cantata "Wir Danken Dir, Gott, Wir Danken Dir", BWV 29)
BEETHOVEN: Sonata in E-flat Major, Opus 7
SCRIABIN: from Mazurkas, Opus 3
No. 3 in G minor: Allegreto
No. 4 in E Major: Moderato
No. 6 in C-sharp minor: Scherzando
No. 1 in B minor: Tempo giusto
SCRIABIN: Valse, Opus 38
CHOPIN: Polonaise in F-sharp minor, Opus 44
STRAUSS/SCHULZ-EVLER: Blue Danube

Encores:

MENDELSSOHN: Songs Without Words, Op. 85, No. 4
MORTON GOULD: Boogie Woogie Etude

Tuesday, April 9, 7:30pm
SF JAZZ Center