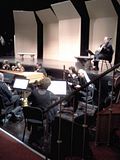 Thursday night I attended
Philharmonia Baroque
's semi-staged performance of Handel's
Teseo
in Herbst Theatre. The orchestra was at floor level in front of the stage, & the singers acted their parts, but without sets or costumes. Soprano
Valerie Vinzant,
as the girlish Greek princess Agilea, was solid. Her coloratura exit aria
M'adora l'idol mio
, in which she playfully duels with the oboe, received extended applause. Her
Amarti sì vorre
was sorrowful & stilled the audience. Soprano
Dominique Labelle
as Medea wore a blood red hoop dress that set her apart from the rest of the cast. She displayed a range of vocal colors with a full & penetrating voice. She maintained her poise even in mad scenes. Soprano
Amanda Forsythe
portrayed Teseo, & her singing was connected, clear & even. She had fun with her strutting act III aria
S'armia il fato
, which included a humorously extended cadenza & finger wagging. Soprano
Céline Ricci
as the confidante Clizia has a sturdy voice & was a pert actress.
The cast included 2 countertenors, but I am not convinced that this is historically justified.
Robin Blaze
produced surprisingly big, whooping high notes, though they did not seem connected to the rest of his voice.
Drew Minter
has an airy sound but switches abruptly to his chest voice for the lowest notes. He made flowery gestures & sang ornaments for comic effect in his 1st aria
Serenatevi, oh luci belle!
The soloists are all high voices, so the brief contributions from baritone
Jeffrey Fields
were gratifying. He seemed awfully easy-going for a Priest of Minerva, though.
Conductor
Nicholas McGegan
led from the right side of the pit, with some of the musicians behind him and some facing the stage. He also accompanied the recitatives on harpsichord. The theorbo player sat on the stage, probably for audibility. Maestro McGegan kept the music moving, often not pausing after arias. The orchestra's playing was unified & consistently buoyant. The many prominent oboe solos were played skillfully.
The plot is shapeless, & the performers let the opera be silly. The on-stage lutenist even became part of the comedy in a scene between Clizia and Arcane in act III. There were no supertitles, but we were handed printed translations on the way in. The long 1st half ran an hour and 50 minutes, the 2nd half an hour and 10 minutes. The audience was attentive throughout & gave the performers a partial standing ovation.
§ Heroic Theseus

HANDEL Teseo, HWV 9
Philharmonia Baroque
Nicholas McGegan, conductor

Amanda Forsythe, soprano (Teseo)
Dominique Labelle, soprano (Medea)
Valeri Vinzant Amy Freston, soprano (Agilea)
Céline Ricci, soprano (Clizia)
Robin Blaze, countertenor (Arcane)
Drew Minter, countertenor (Egeo)
Jeffrey Fields, baritone (Priest of Minerva)
Jonathan Smucker, tenor

Thur, Apr 11, 2013, 7:30 pm
The Herbst Theatre, San Francisco