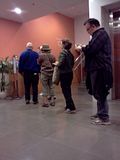 Over the weekend I saw Part 2 of
The Story of Film: An Odyssey
, being presented on 8 consecutive Saturdays by the
San Francisco Film Society
. In the 1st hour, filmmaker Mark Cousins continues his survey of the silent era & focuses on films that challenged the romantic "Hollywood bauble." We see clips from Lubitsch, Gance & Buñuel & get the classic shot-by-shot analysis of the Odessa Steps sequence from
Battleship Potemkin
. Mr. Cousins lingers on Ozu, calling him "perhaps the greatest film director that ever lived." I was interested to learn of Ruan Lingyu, a Chinese movie star from the 1930s who committed suicide at age 25 under intense scrutiny by the press. Mr. Cousins reports that her funeral procession was 3 miles long & that 3 women committed suicide during the event.
The 2nd hour covers the 1930's & the emergence of the standard genres, such as horror, gangster film & screwball comedy. I liked when Mr. Cousins juxtaposed the hotel hallway scene from Cocteau's
The Blood of a Poet
with the hotel fight scene from
Inception
, both employing the same shifted axis of gravity. Mr. Cousins reveres Hitchcock, whom he deems "the greatest image maker of the 20th century." The audience laughed when it saw the memorial at Gainsborough Studios in London which depicts Hitchcock as a giant Buddha head.
§ The Story of Film: An Odyssey
Directed by Mark Cousins
8 parts, 122 min each part

Eight Consecutive Saturdays
June 2–July 21
Showtime: noon
SF Film Society Cinema

June 2: Part 1 "Birth of the Cinema" (1900–1920); "The Hollywood Dream" (1920s)

June 9: Part 2 "Expressionism, Impressionism and Surrealism: Golden Age of World Cinema" (1920s); "The Arrival of Sound" (1930s)

June 16: Part 3 "Postwar Cinema" (1940s); "Sex & Melodrama" (1950s)

June 23: Part 4 "European New Wave"; "New Directors, New Forms" (1960s)

June 30: Part 5 "American Cinema of the '70s"; "Movies to Change the World" (1970s)

July 7: Part 6 "The Arrival of Multiplexes and Asian Mainstream" (1970s); "Fight the Power: Protest in Film" (1980s)

July 14: Part 7 "New Boundaries: World Cinema in Africa, Asia, Latin America"; "New American Independents & the Digital Revolution" (1990s)

July 21: Part 8 "Cinema Today and the Future" (2000s)