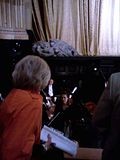 Thanks to the
Opera Tattler
, I attended the opening of
San Francisco Opera
's
Attila
, a production I probably would have missed otherwise. The opera is heavy with themes of personal revenge & patriotism but, despite the title, is relatively bloodless. Attila himself is perhaps the least reprehensible character in the lot. Every scene turns into a chipper oom-pah-pah number, so the over-all impression is one of jolliness.
The sets are large. The 1st act takes place in the appropriate historical period, in a crumbling Roman amphitheater. However the set for act 2 includes a Medieval catapult & a crumbling 19th century opera house. Act 3 occurs in a crumbling movie theater, complete with a running film starring star Jack Palance as Attila the Hun.
Bass
Ferruccio Furlanetto
had a dark & weighty sound as Attila. He seemed to be encumbered in act 1 by his long coat. It even knocked over a chair by accident [But see 1st comment below]. Soprano
Lucrecia Garcia
was Odabella, & though she has a high-flying, muscular voice, she seemed to be having problems controlling it this evening & nearly missed a high note in her solo scene in act 1. Tenor
Diego Torre
as Foresto, her love interest, made a bright yet narrow sound. Bass
Samuel Ramey
was dignified in his cameo as the Pope, though he sang with a wide wobble. The children who accompanied him as altar boys lost their focus a bit, sometimes looking around or scratching their faces. My favorite singing was from baritone
Quinn Kelsey
, who sounded full, beaming & lyrical in his act 2 scenes.
Maestro
Nicola Luisotti
made the score sound consistently alive & vibrant, & the orchestra played avidly for him. The big choral scene in act 2 was an exciting climax. Immediately following the performance, Chorus Director
Ian Robertson
received the San Francisco Opera Medal
from General Director
David Gockley
, in recognition of his 25 years with the company. I also witnessed the Opera Tattler receive compliments for upholding dress standards for patrons of the opera.
§ Attila
Giuseppe Verdi
San Francisco Opera
Conductor: Nicola Luisotti
Director: Gabriele Lavia
Attila: Ferruccio Furlanetto
Odabella: Lucrecia Garcia
Foresto: Diego Torre
Ezio: Quinn Kelsey
Uldino: Nathaniel Peake
Pope Leo I: Samuel Ramey
Tue 06/12/12 8:00pm
War Memorial Opera House