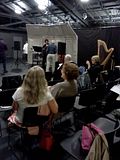 The
Left Coast Chamber Ensemble
relocated to a black box theater space for the last concert of their season. The audience sat along 3 sides of the room, & the musicians were much more audible than in the Green Room of the Veterans Building.
Yu-Hui Chang
's piece
Under a Dim, Orange Light
for flute, viola & guitar opens with the viola making scraping sounds & has a scurrying feel. Flutist
Stacey Pelinka
switched between bass flute & standard flute & made fluttering noises on both instruments. She has a solid flute sound. The music was sometimes harsh, though it seems to be impossible to produce an ugly sound on the guitar. The piece ends quietly. 3 latecomers walked right in front of the playing musicians to get to their seats. The composer Ms. Chang was present & took a bow from her seat. Guitarist
Michael Goldberg
returned for a short solo by Manuel de Falla that had a slow habanera rhythm.
Andrew Norman
's
A Companion Guide to Rome
for string trio is a set of 9 pieces corresponding to the architecture of various Roman churches. The music is restless & astringent & employs slides & extreme pitches. The trio played with grit & determination. In one piece the violist moved to a music stand behind the other musicians & played with his back to the audience. His music included squeaks & crunching double-stops. The violinst did likewise in another section, playing notes in dog whistle territory. After a loud, rocking penultimate movement, the piece ends quietly.
When the audience returned after a long intermission, violinist & Artistic Director
Anna Presler
embarrassingly informed us that a speaker would not turn on, so they would have to postpone the premiere of violist
Kurt Rohde
's new piece, which required electronics. The program ended with Debussy's Sonata for Flute, Viola, & Harp. Mr. Rohde is a brawny player & states everything with confidence. Harpist
Karen Gottlieb
has nice dynamic control, & I liked the floaty feel of the 1st movement.
I received a cookie-like treat for turning in my audience questionnaire during the intermission, & there was a drawing for tickets to
Attila
at San Francisco Opera the following night.
§ Delicacies for Diverse Ensembles
Left Coast Chamber Ensemble
Yu-Hui Chang • Under a Dim, Orange Light (2012) WORLD PREMIERE
Stacey Pelinka, flute; Kurt Rohde, viola; Michael Goldberg, guitar
Manuel de Falla • Le tombeau de Claude Debussy for Guitar, G.56 (1920)
Michael Goldberg, guitar
Andrew Norman • A Companion Guide to Rome for String Trio (2010)
Anna Presler, violin; Kurt Rohde, viola; Tanya Tomkins, cello
Kurt Rohde • …maestoso…misterioso… (2012) WORLD PREMIERE
Anna Presler, violin; Kurt Rohde, viola; Sam Nichols & Jordan Cohen, electronics
Claude Debussy • Sonata for Harp, Flute and Viola, L.137 (1915)
Stacey Pelinka, flute; Kurt Rohde, viola; Karen Gottlieb, harp
Monday, June 11, 2012 at 8 pm
Dennis Gallagher Arts Pavilion