Tuesday night I saw
San Francisco Opera
's new production of
The Magic Flute
, designed by artist
Jun Kaneko
. There are no sets. Instead, projected animations of simple patterns in basic colors provide the backgrounds. Costumes in simple shapes & solid colors suggest an Oriental fairy tale. It was to fun to see the huge bird hunted by Papageno & the toy-like, armless creatures charmed by Tamino's flute playing. I also liked Sarastro's spikey-haired lions.
Tenor
Alek Shrader
makes a smooth & pleasing sound, especially in his middle range. There's a slightly different quality to his highest notes.
Nathan Gunn
was an appealing Papageno & looked & sounded completely at ease. He even looked good in what was basically a green morphsuit. Soprano
Albina Shagimuratova
sang with great accuracy & made the Queen of Night's fearsome arias actually sound pretty. Tenor
Greg Fedderly
, with a Struwwelpeter hairdo, was a great comic singer & actor, & his Monostatos was merry rather than threatening. I liked bass-baritone
David Pittsinger
, whose voice was deep & even in the short role of the Speaker. Bass
Kristinn Sigmundsson
as Sarastro may have sounded even deeper, but I found his singing cautious rather than powerful. Soprano
Heidi Stober
looked like Alice in Wonderland in the 1st act, & her singing was strong, urgent & emphatic.
The 3 Ladies had competitive personalities in their 1st scene & wielded spears, looking like cartoon valkyries. The 3 Boys, dressed like rajahs, rode through the air in colorful ice cream cones & kept together well whenever they sang.
Beau Gibson
&
Jordan Bisch
had loud & sturdy voices as the 2 Armored Men. Soprano
Nadine Sierra
was irresistibly cute & flirtatious, even in a grotesque bird head. The only thing cuter was the brood of golfball-shaped chicks belonging to her & Papageno.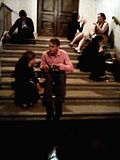 Conductor
Rory Macdonald
made the music consistently buoyant, lilting & sunny. He never lingers, & tempos may have been fast for the singers. The woodwinds played sprightly & added a few flourishes. The performance was in an English version by General Director
David Gockley
. This made the dialogue scenes looser & more entertaining. The translation was often colloquial, with words like "goon" & mentions of drag queens & the economic downtown. Papageno's "O Weh!" was cheekily translated into "Oihme!"
I saw a fair number of children at Tuesday night's performance. I started in standing room, but was given a ticket for an orchestra seat by a gentleman who was enjoying the show but had to leave early.
§ The Magic Flute
Wolfgang Amadeus Mozart
New English version by David Gockley

San Francisco Opera
Conductor: Rory Macdonald
Director: Harry Silverstein
Production Designer: Jun Kaneko

Tamino: Alek Shrader
First Lady: Melody Moore
Second Lady: Lauren McNeese
Third Lady: Renée Tatum
Papageno: Nathan Gunn
The Queen of the Night: Albina Shagimuratova
Three Slaves: Chester Pidduck, Michael Belle, Phillip Pickens
Monostatos: Greg Fedderly
Pamina: Heidi Stober
First Spirit: Etienne Valdez
Second Spirit: Joshua Reinier
Third Spirit: John Walsh
The Speaker: David Pittsinger
Sarastro: Kristinn Sigmundsson
First Priest: Christopher Jackson
Second Priest: Joo Won Kang
Papagena: Nadine Sierra
First Armored Man: Beau Gibson
Second Armored Man: Jordan Bisch

Tue 06/19/12 8:00pm
War Memorial Opera House