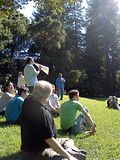 I'm grateful that
SFMike
encouraged me to attend this outdoor performance of
John Luther Adams
's
Inuksuit
, which kicked off the
Ojai North!
series. Monday's weather was ideal, & dozens of people were hanging out in the shady areas of a sloping grassy area behind Hertz Hall. 21 percussionists played this performance, though up to 99 may participate. Shortly after the Campanile tolled 5 o'clock, the musicians started slowing moving in from the perimeter. Some had paper cones to amplify their breathing, & others played whirling tubes, bullroarers & other instruments that sounded like wind, rain or rustling leaves. There were silences as well as scored sounds, & a distant train whistle became part of the soundscape.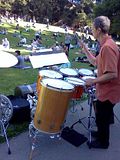 The musicians made their way to individual percussion setups scattered around the glade. Around 15 minutes in, we heard one-note calls on conch shells & trumpets, then a shattering bass drum solo. Over the next 40 minutes or so, the music grew louder & busier as the percussionists played drums, gongs, cymbals & xylophones. Performers stationed around the perimeter played sirens & then triangles.
We were encouraged to move around, & I was drawn from one percussionist to another, attracted like a moth to lights. Though each musician seemed to be following his own internal pulse, there was often a feel of call & response between the players. The piece wound down to just the tinkling of xylophones. As the silences got longer & the scored music came to a stop, ambient sounds re-asserted themselves. I heard birds chirping & the low hum of a nearby building. As if on cue, the Campanile struck 6 o'clock, & the audience broke into long applause.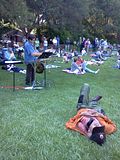 Attendees were a mixed bag of music lovers, families, students passing through, & a few odd characters. A woman did her best to be distracting for most of the performance by playing fetch with her frisbee-catching dog right near 2 musicians. I left wanting to hear the piece with the maximum 99 performers spread over a larger area, in Golden Gate Park perhaps.
§ Ojai North!
Inuksuit
John Luther Adams

Steven Schick, director

Percussionists:
Victor Avdienko
Mike Crain
Raymond Froehlich
Christopher Froh
Susan Jette
Jim Kassis
Luanne Katz
Daniel Kennedy
Loren Mach
Stan Muncy
Patti Niemi
Jonathan Raman
Brian Rice
Kevin Sakamoto
Steven Schick
Megan Shieh
Artie Storch

William Winant Percussion Group:
Nava Dunkelman
Lydia Martín
William Winant
Anna Wray

June 11, 5 pm
Faculty Glade (outside Hertz Hall)