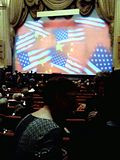 There was a sense of anticipation Friday night for the opening of
San Francisco Opera
's
Nixon in China
. When I saw
Lisa Hirsch
, the 1st thing out of her mouth was "It's prime time in the USA!" She may still be talking only in
quotes
from the opera.
Nixon in China
lacks a plot & a dramatic conflict, but
John Adams
's music holds it all together. I had a hard time not bouncing in my seat during its many galloping passages. The production is relatively simple & uncluttered. Video projections depict the landing of the Spirit of '76 in act 1 & Pat Nixon's tour in act 2. The setting for the meeting of Nixon & Mao has just a table & 5 chairs in front of 5 large images of Mao. I liked the choreography of Mao's 3 secretaries as they sat in rotation. The stage action is always clear, even when the libretto seems to be nothing but non sequiturs. The busy banquet scene humorously ends with people atop spinning tables. In act 3 the characters inhabit an abstract space filled with props from previous scenes, which are gradually removed.
Baritone
Brian Mulligan
captured Nixon's posture & movements convincingly. He made a warm, smooth sound & was a youthful & eager Nixon. Bass-baritone
Patrick Carfizzi
was a clown-like Henry Kissinger, especially in the act 2 ballet. Tenor
Simon O'Neill
sang incredibly high in a powerful, gutsy, heldentenor voice, & his pudgy Mao was somehow also lusty. Soprano
Hye Jung Lee
might have been the smallest person on the stage, but in act 2 she was a threatening presence as Madame Mao even before she opened her mouth. She completely commanded the stage in the show-stopping "I am the wife of Mao Tse-tung," singing one high note after another fearlessly. She was simply terrifying, & the scene built to a savage, surreal tableux.
The music's constantly shifting meters must be challenging, & conductor
Lawrence Renes
emphasized exact rhythms. The orchestra & performers on stage were miked, which made everything very loud & flattened out the sound. I felt like I heard no strings except for a few ascending violin solos. I enjoyed hearing saxophones in the orchestra.
After each intermission, I saw more empty seats in the rows around me. A cell phone at the back of the orchestra level rang twice during the act 2 ballet & then again just before act 3. Perhaps the owner was too deaf to hear it. Composer
John Adams
watched the performance from an orchestra seat & received a standing ovation when he came on stage for a bow. We heard the performers cheering for themselves after the house lights came up.
§ Nixon In China
Music by JOHN ADAMS and Libretto by ALICE GOODMAN

San Francisco Opera
Conductor, Lawrence Renes
Director, Michael Cavanagh

Richard Nixon, Brian Mulligan
Pat Nixon, Maria Kanyova
Mao Tse-Tung, Simon O'Neill
Chiang Ch'ing (Madame Mao Tse-Tung), Hye Jung Lee
Chou En-Lai, Chen-Ye Yuan
Henry Kissinger, Patrick Carfizzi
Nancy T'ang, First Secretary, Ginger Costa-Jackson
Second Secretary, Buffy Baggott
Third Secretary, Nicole Birkland

Wu Ching-Hua, Chiharu Shibata
Hung Ch'ang-Ch'ing, Bryan Ketron

Fri 06/8/12 8:00pm
War Memorial Opera House