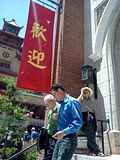 I was at Tuesday's
Noontime Concert
at Old St. Mary's for a pleasant program of Mozart quartets. The Oboe Quartet in F major sounded light & trim. Oboist
Laura Griffiths
has a sleek, silken tone, & she added discrete ornaments & a small cadenza in the 1st movement. Cellist
Dawn Foster-Dodson
was warm & lively.
The ensemble played the 1st movement of the String Quartet No. 14 in G major with swelling phrasing. Tempos were fleet but not too fast. The fugal opening of the 4th movement sounded a bit hazy. The appreciative noontime audience gave the performers a standing ovation. Maestro
George Cleve
did not participate, but he stood in front of the audience at the end to praise the musicians & to remind us of the up-coming
Midsummer Mozart Festival
.
§ Noontime Concerts
Midsummer Mozart Festival Orchestra Ensemble
Laura Griffiths, oboe
Robin Hansen, Adrienne Sengpiehl, violins
Marcel Gemperli, viola
Dawn Foster-Dodson, cello

Wolfgang Amadeus Mozart: Oboe Quartet in F major, K. 370
Wolfgang Amadeus Mozart: String Quartet in G major, K. 387

Tuesday, June 12 12:30 p.m.
Old St. Mary's Cathedral