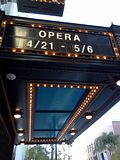 Saturday night I heard the 1st of 2 casts for
Opera San Jose
's production of Gounod's
Faust
. The story is clearly set in 16th century Flanders, with period costumes & rectangular backdrops resembling paintings by Bruegel & Bosch. All the action occurs on a low platform with minimal props, giving the staging a somewhat abstract feel.
Tenor
Michael Dailey
as Faust is a tall & attractive figure. He has an unusual voice which is light & sounds as if it's coming through cardboard. Soprano
Jouvanca Jean-Baptiste
has a weighty, dramatic sound & projected a mature Marguerite. The audience got nervous when the staging required her to climb a flight of wobbling, free-standing stairs representing her house. Bass
Silas Elash
, wearing a feathered cap, was a rakish & swaggering Méphistophélès. He has a big, open sound, especially at the top. Baritone
Evan Brummel
's Valentin was solid & grounded, & mezzo
Betany Coffland
's Siébel sounded bright & girlish. Conductor
David Rohrbaugh
set a relaxed pace, starting with an unhurried overture. The orchestra, & particularly the woodwinds, played with a sense of ease. I enjoyed hearing the auditorium's powerful theater organ in the cathedral scene & at the ending.
The staging by
Brad Dalton
had its surprises. Four dancers act as minions of Méphistophélès, though neither he nor anyone else seems to see them. Before act 2, a little girl in a white dress appears in front of the curtain. She seems to be Marguerite's dead sister, & her presence & supernatural powers are creepy. I found it odd when characters entered Marguerite's house through a hidden door in a backdrop painted with an outdoor scene.
The supportive audience was engaged, & many stood when Mr. Elash came out for his curtain call. During the 2nd intermission,
Oboeinsight
, who is playing in these performances, shared with the
Opera Tattler
& me her musical
insights
into this enduringly popular opera.
§ Faust
Charles Gounod

Opera San José
Conductor, David Rohrbaugh
Stage Director, Brad Dalton

Faust, Michael Dailey
Méphistophélès, Silas Elash
Marguerite, Jouvanca Jean-Baptiste
Valentin, Evan Brummel
Marthe, Heather Clemens
Siébel, Betany Coffland
Wagner, Sepp Hammer

Sat., April 21, 2012 8 p.m.