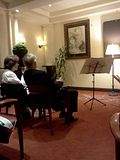 For the
last salon
event of the season, the
Albers Duo
presented this 70-minute program of vioin & cello duos for an intimate audience of about 60. The 2 sisters listen well to one another, & their performance was unaffected & tasteful. I liked the comfortable playing & full tone of cellist
Julie Albers
.
Laura Albers
has a matching mellow violin sound that is easy to listen to. The 1st movement of the Martinu duo was plaintive, & the 2nd movement was contrastingly spirited. I liked the extended cello solo which Julie Albers played smoothly.
The performers explained that the Glière pieces were not intended for public performance but written for amateurs to perform at home. The
Scherzo
was joyful, & the sly ending of the perpetual motion
Etude
made the audience laugh. The pair played the outer movements of the Kodály duo vigorously yet with ease. When it started raining heavily outside, the sound of the drops against the skylight added a soothing element.
During the Q&A, we learned that because the sisters each have careers on different coasts, they have to schedule their rehearsals with one another a year in advance. Laura Albers is Associate Concertmaster of the
San Francisco Opera Orchestra
, so it was no surprise to learn that Strauss & Wagner are her favorite composers to perform. Her newborn infant was the youngest member of the audience & was extremely well-behaved.
§ Albers Duo
Laura Albers, violin
Julie Albers, cello

Martinu: Duo No. 1 for Violin and Cello
Glière: Eight Duets Op. 39 for Violin and Cello
Kodály: Duo for Violin and Cello, Op. 7

Salon at the Rex
San Francisco Performances
Wednesday, April 25, 6:30 pm