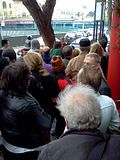 Sunday's showing of
How to Survive a Plague
at the
SF International Film Festival
got delayed half an hour when a fire alarm went off just as the audience was seated, & everyone had to evacuate. As we waited on the sidewalk behind the theater, a woman asked, "
Can someone tweet this?
"
How to Survive a Plague
is journalist David France's documentary about
ACT UP New York
. It's a guileless assemblage of archival video from 1987 through the early 90s, chronicling the controversial group's theatrically aggressive protests & equally belligerent meetings. Much of it was shot by the activists themselves with shaky camcorders, & the depiction of events is fragmentary & includes lots of yelling. Emotions run high in every scene. Footage of Peter Staley's passionate address to the International AIDS Conference in San Francisco in 1990 caused the theater audience to applaud.
Director
David France
was present, & we learned that he started with so much material that his 1st cut of the film ran 13 hours.
Dr. Paul Volberding
& ACT UP alumni
Peter Staley
&
Mark Harrington
, who all appear in the film, were also present. The festival audience was clearly grateful to have them for the Q&A, & a young woman, apparently an AIDS activist herself, choked up & cried instead of asking her question.
§ How to Survive a Plague
director, David France
USA, 2012, 110 min
55th San Francisco International Film Festival
Fri, Apr 20 9:00 / Kabuki
Sun, Apr 22 6:00 / Kabuki