Saturday afternoon I was at the
SF International Film Festival
to see
Marina Abramović: The Artist Is Present
, a documentary about the performance artist's 2010 retrospective at the
MOMA
. Ms. Abramović appears as an impossibly hardy & vibrant 63-year-old woman. We see her preparing & performing a work in which she sat motionless & silent in the gallery during all the museum's public hours for nearly 3 months, while visitors took turns sitting across from her & looking into her eyes. It turns out to be amazingly powerful. Sitters frequently responded by crying. A glimpse of James Franco experiencing the work is priceless. The documentary does a thoughtful job providing context, so that you don't feel like you need to know much about modern art in order to get it. We get enough background on Abramović's former partner & collaborator, a shaggy German called Ulay, so that we can view this as a love story as well.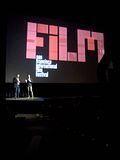 Directors
Matthew Akers
&
Jeff Dupre
were present for a Q&A. We learned that Ms. Abramović was so comfortable providing them access that after 1 day of filming by Mr. Akers, she gave him a set of keys to her apartment. We also heard more stories of misbehaving museum visitors. Ms. Abramović apparently likes the film, though she finds it difficult to watch because of the emotional memories it brings back. Prior to the screening,
Joanne Parsont
, SFFS Director of Education, gave away 2 t-shirts by throwing them out to the audience. She tried to get one into the balcony & had the distance but not the height.
§ Marina Abramović: The Artist Is Present
director, Matthew Akers
USA, 2011, 105 min

55th San Francisco International Film Festival
Sat, Apr 21 4:15 / Kabuki
Sat, Apr 28 3:30 / Kabuki
Sun, Apr 29 5:40 / PFA