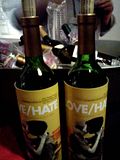 Thursday night I attended the sold out premiere of composer
Jack Perla
's chamber opera
LOVE/HATE
at the ODC Theater. The 80 minute work is for 4 singers & a quartet of piano, violin, cello & clarinet. The audience laughed at the droll overture imitating annoying cellphone ringtones. In the opera's plotless scenario, a man awkwardly hits on a woman at a Muni bus stop. This is the pretext for 14 skit-like scenes that are fantasies & flashbacks. The score is a mix of musical styles, sounding variously like opera, show tunes, jazz, pop & Philip Glass. The libretto by Rob Bailis is wordy & urbane.
The cast is young & cute & communicates a feeling of fun. Tenor
Thomas Glenn
sings with clarity & ease, & he moves very comfortably on stage. His voice thinned only when he had to sing very high. Soprano
Marina Boudart Harris
has a sturdy, grounded sound, & I liked her in a serious aria about watching a sleeping woman. Mezzo
Laura Krumm
has a sustained, velvety voice & was convincing in her character's aria expressing insecurity. Baritone
Ao Li
's voice is deep & round, & his singing was lovely in an aria ending with the words "assuage me." Everyone's voice seemed to get bigger as the show progressed, & the final ensemble was amazingly loud.
The production's minimal props, rolled on & off by stage managers, made the settings clear. Everyone seemed to enjoy the inflatable sheep named Agnes. The singers play multiple roles, with simple costume changes. Though the instrumentalist were at the side of the stage, conductor
David Hanlon
stood front & center. He is a conscientious leader, & all the performers paid attention to him. I liked the light but varied playing of cellist
Adelle Akiko Kearns
.
Robert Mollicone
was kept busy playing both the piano & an electronic keyboard.
The audience was supportive & laughed eagerly at all the comic bits. A wine & dessert reception followed. It rains in the opera, so when we heard booming thunder & heavy rain from the storm outside, it just seemed like really good sound effects.
§ LOVE/HATE
Composer, Jack Perla
Librettist, Rob Bailis

Conductor, David Hanlon
Director, M. Graham Smith

Cupid/Samantha/Oracle of 3rd Street: Marina Boudart Harris
Laura/O.M.G. Girl: Laura Krumm
George/Casanova: Ao Li
Death/Darren/Sex Guru: Thomas Glenn

Vioin, Michelle Maruyama
Cello, Adelle Akiko Kearns
Ryan Ibbetson, Clarinet
Robert Mollicone, Piano

April 12, 2012
ODC Theater