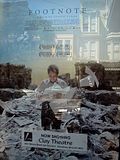 When I 1st read about Joseph Cedar's
Footnote
, I thought it was a documentary about Talmudic scholarship. Professor Eliezer Shkolnik is a dedicated but unpleasant man. He toils for decades, but his only claim to fame is as a footnote in someone else's work. Through a mix-up, he receives a prestigious award that was meant for his son, who is both more likeable & his academic rival. Unfortunately the prize does not improve the old man, & what starts as a lightly comic satire on academia ends as a family drama.
The film is stylish, full of telling visual details & at times having the feel of a silent movie. The eye-catching opening titles simulate a microfiche reader. The film plays its humor with a very straight face. The story takes place in Israel, & at a moment of high familial tension we watch the characters sit stone-faced through a performance of
Fiddler on the Roof
. I liked the movie's insinuating score, which sounds like a pumped-up version of Shostakovich's salon music.
§ Hearat Shulayim (Footnote) (2011)
Director: Joseph Cedar
103 min, Israel