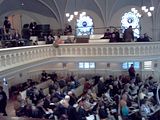 Sunday evening I attended this program of
Bach concertos for multiple soloists
by the
American Bach Soloists
. Their performance was exacting & CD-ready. Tempos were consistently fast.
Andrew Fouts
&
Katherine Kyme
were soloists for the Double Violin Concerto in d Minor, accompanied by a minimal orchestra of 11. The tall Mr. Fouts makes his violin look like it's 2 sizes too small. His sound has a rapid swell & a skimming feeling. Ms. Kyme's playing was more grounded. It was interesting that each soloist articulated identical passages differently. I often complain about not being able to heard the harpsichord in concerts of Baroque music, but from my seat in the right balcony, the harpsichord sounded bold.
Oboist
John Abberger
& violinist
Elizabeth Blumenstock
were soloists for the Double Concerto in c Minor. Baroque wind instruments are one thing where Historically Informed Performance makes sense to me, as their sound is so distinct from the modern versions. I liked Mr. Abberger's even, connected playing. Ms. Blumenstock played in contrastingly short phrases.
When all 3 violin soloists were set up for the Triple Concerto in D Major, they mischievously started playing "Frère Jacques" as a round, with the orchestra joining in. This concerto is actually a "reverse-engineered" version of a Concerto for 3 Harpsichords in C Major. As for every piece in the program, the soloists played with music in front of them, which I felt undermined their virtuosity as well as their communication with each other. I was startled when Mr. Fouts added vibrato to a note he was sustaining in the Adagio. Ms. Blumenstock was vigorous in her 3rd movement cadenzas.
After the intermission, the stage was set for what looked like a harpsichord duel, the 2 instruments set at right angles to one another & the orchestra at the soloists' backs. I liked seeing the violins & violas standing.
Corey Jamason
and
Leon Schelhase
were alert & well-coordinated soloists, & the instruments had a crackling sound.
While the stage was reset for the
Brandenburg 3
, conductor
Jeffrey Thomas
praised the soloists & joked that to avoid having an unlucky 13 people on stage, he was bowing out early. The orchestra remained standing, & Ms. Blumenstock cued the conductorless performance. The players listened to each other well & were engaged & spirited. It was as if everyone had stepped out into sunshine & open air. The audience responded with a standing ovation & cheers. I had no idea why the
Opera Tattler
was in attendance, seeing as the program did not include opera or even singers.
§ Bach's DOUBLE CONCERTOS
American Bach Soloists
Jeffrey Thomas, conductor

John Abberger, oboe
Elizabeth Blumenstock, violin
Andrew Fouts, violin
Katherine Kyme, violin
Corey Jamason, harpsichord
Leon Schelhase, harpsichord

Concerto for 2 Violins in D Minor, BWV 1043
Concerto for Oboe & Violin in C Minor, BWV 1060
Concerto for 3 Violins in D Major, BWV 1064r
Concerto for 2 Harpsichords in C Major, BWV 1061
Brandenburg Concerto No. 3 in G Major, BWV 1048

Sunday, April 1 2012
7:00 pm
St. Mark's Lutheran Church