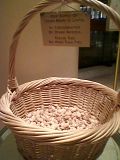 I had not heard of conductor
Kirill Karabits
before. He looks very young, with the appearance & optimistic demeanor of a college student. The program opened with Ukrainian composer
Valentin Vasilyevich Silvestrov
's
Elegie
(2002). The piece is for strings only, lasts barely 8 minutes, & has a chamber feel to it. It uses a repeated descending motif & is quiet & undemonstrative, with places where the music comes to a rest. It ends in silence. Maestro Karabits made smooth movements & kept the piece feeling sustained & gently flowing
In the Schumann piano concerto, I found pianist
Hélène Grimaud
's playing to be heavy, though she does get deep into the keys & is always clear & clean. She has an intense & focused stage presence & communicated the restlessness of the 1st movement well. There was a contrast between her spiky playing & Karabits's willowy gestures. I liked the upward swoosh he made for the last chord. Many stood for Ms. Grimaud when she came out for her 2nd bow.
Rachmaninoff's
Symphonic Dances
sounded splashy without being brash. Maestro Karabits moves his arms like a ballet dancer & made the transitions very fluid. There were prominent & nicely played solos from the oboe, clarinet & sax in the 1st movement. Concert master
Alexander Barantschik
made a dense, continuous sound in his 2nd movement solo. It was a consistently pleasant performance. Even the Dies Irae in the 3rd movement sounded joyful. In the last moments of the piece, Karabits wafted his arms above his head in a curious fashion, as if the music were floating away. He received a warm standing ovation. The concert was well attended, & all the cool kids were there as well: Besides accompanying the
Opera Tattler
, I spotted
Cedric
& gave New Year's greetings to
SFMike
&
Patrick
.
§ Hélène Grimaud plays Schumann's Piano Concerto
Kirill Karabits, conductor
Hélène Grimaud, piano
San Francisco Symphony

SILVESTROV: Elegie for String Orchestra
SCHUMANN: Concerto in A minor for Piano and Orchestra, Opus 54
RACHMANINOFF: Symphonic Dances, Opus 45

Fri, Jan 7, 2011 8:00pm
Davies Symphony Hall