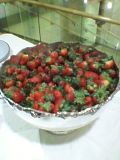 Last night I was part of an invited audience for a preview of
Ensemble Parallèle
's up-coming production of Philip Glass's
Orphée
. In an hour-long presentation, artistic director & conductor
Nicole Paiement
gave us an informative overview of the work & led several excerpts performed by cast members
Eugene Brancoveanu
,
Susannah Biller
,
John Duykers
&
Brooke Muñoz
with piano accompaniment. Even though the singers have only just begun rehearsals, they sound like they will be a terrific cast. Baritone Eugene Brancoveanu's gorgeous & communicative singing as Orphée made me think I understood French perfectly.
The opera is based closely on the Jean Cocteau film
Orphée
, which was playing when the audience came in. Indeed, the libretto is essentially the dialogue from the movie, a concept which one audience member declared "insane" during the Q & A. Ms. Paiement engagingly explained the ways in which the opera is stylistically French in its lyricism & yet completely characteristic of Philip Glass.
Director
Brian Staufenbiel
discussed the staging, which will present the underworld as a surreal circus. The motorcycle henchmen from the movie are represented by a
roue cyr
, a kind of giant metal hula hoop with an acrobat rolling around inside it. We also saw samples of videos featuring the cast, which will be projected inside 5 pictures frames above the set. Ensemble Parallèle will present a further peak at the production at the free
Friday Night at the de Young
on January 28 at 6:30pm & 7:45pm.
§ Orphée Sneak Preview
Ensemble Parallèle
San Francisco Conservatory of Music
January 18, 2011, 6pm