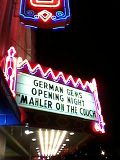 Last night I saw
Mahler auf der Couch
on opening night of the
German Gems
festival at the Castro. There was a full house. The movie is a psychodrama about the marriage of Alma & Gustav Mahler. A humorous depiction of the real meeting between Mahler & Sigmund Freud frames the story, which presents emotionally charged moments from the couple's life in jumbled order. The style is informed by a modern sensibility. There are frequent hand-held camera shots, jump cuts, & characters talking directly to the audience. Alma comes across as a woman dominated by her sexual appetite. Mahler is egotistical, pathetic & klutzy. I was not sympathetic to the directors' reduction of Mahler's music to a paean of love for Alma. A scene where Mahler rushes out of his composing hut exuberantly shouting he has finished the 6th Symphony borders on the silly. An obligatory scene featuring the famous
Adagietto
shows Alma hearing the music in her head as she reads the manuscript score & weeps.
Immediately after the movie,
Donato Cabrera
of the SF Symphony appeared on stage with Festival Coordinator
Ingrid Eggers
to talk about the Symphony's up-coming Mahler performances & to answer questions about the musical content of the film. There was also a reception in the theater's upstairs lobby, which immediately became a crush. I could see beer, pizza, soup, cheese plates & small sandwiches. There was supposedly vodka & caviar as well, but it may have been at the opposite end of the room where I could not easily get to it. I was perfectly happy to get a Spaten, one of 2 beers available.
As a bonus, an hour after the movie they screened a bland 40 minute promotional documentary about
Esa-Pekka Salonen
& the
Swedish Radio Symphony Orchestra
recording the movie's soundtrack. The soundtrack of course consists solely of chunks cut from Mahler's symphonies, primarily the unfinished 10th. The only music we see performed in the movie, though, is from Wagner's
Die Walküre
.
§ Mahler auf der Couch
Directed by Percy & Felix Adlon

German Gems
A Weekend of New German Cinema
Castro Theatre
Friday, January 14, 7pm