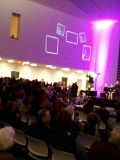 At
tonight's Friday Night at the de Young
, I got another peek at
Ensemble Parallèle
's up-coming production of Philip Glass's
Orphée
. The presentation ran about half an hour & consisted of several performed scenes, some spoken narration, prerecorded music & videos projected onto the walls above Wilsey Court. This time the circus theme for the underworld was evident. The Princess wore a female ringmaster costume. The poet Cegeste was lured to his death by an acrobatic clown circling him in a
roue cyr
. The final show ought to create some unusual stage pictures.
For the vocal excerpts, conductor
Nicole Paiement
led 5 singers & a band consisting of flute, clarinet, violin, harp & keyboard. Several of the singers had their parts memorized already. I like the contrast in timbre between the principal male voices of tenor
John Duykers
& baritone
Eugene Brancoveanu
. The performers were miked -- a necessity, I suppose -- but it resulted in some unnatural instrumental balances.
A large crowd gathered for the performance. Immediately following, we rushed over to Koret Auditorium, where young singers
from Argentina
were to perform next, but the venue was already full, & we were among many who were turned away. These Friday night events clearly bring crowds into the museum. It is possible to purchase drinks, but at one point I was surrounded by people eating chicken legs, & I have no idea how they got them.
§ Friday Nights at the de Young
Opera Night
Ensemble Parallèle presents "Love, Obsession, and Death": excerpts from the Philip Glass opera

Orphée


January 28, 2011 - 6:00pm
Wilsey Court