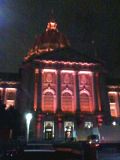 Saturday evening I was at the
New Century Chamber Orchestra
's
Tour Kick-Off Concert
. In the
next 2 weeks
they will perform in venues in California, Ohio, Michigan & Illinois. They already have a
tour blog
. I like their audience-friendly program. Music director
Nadja Salerno-Sonnenberg
, clearly buzzed, began by thanking the staff, board, musicians & audience. She joked that since this was the group's 1st time playing the program, this might be the worst performance of the tour.
There was a sense of excitement about the evening. The 19 string players attacked the dance-themed program aggressively. The final movements of Bartók
Romanian Folk Dances
sounded like a hoedown. Ms. Salerno-Sonnenberg was soloist for the Piazzolla
Four Seasons of Buenos Aires.
She plays with a nervous energy & gyrates like a rock star. A section in
Summer
with glissandos & a unison slide sounded like space music. Bass player
Tony Manzo
provided a plump yet discreet pizzicato accompaniment in the coda of
Winter
. He may be my favorite musician in the group. The audience laughed at the quote from Vivaldi's
La Primavera
in the 1st movement, & they clapped appreciatively for each movement. At the end there was cheering & a standing ovation.
The Tchaikovsky
Serenade
was played emphatically & had a somewhat disjointed feel, though the 2nd violin & viola sections often played very uniformly & cleanly. The ensemble is conductorless, so one sees a lot of eye contact between the players. The enthusiastic audience gave the show an immediately standing ovation, even resorting to stamping their feet. We were rewarded with 2 encores. Schnittke's evil version of a
Polka
made the musicians laugh as well as the audience. Salerno-Sonnenberg was the soloist for
"Bess you is my woman now"
by Gershwin.
A correspondent reported that he was seated next to an older woman who apparently lost count of the movements during the Piazzolla. Thinking the piece was already over, she was surprised by the final movement & asked aloud, "Just how many seasons do they have in Buenos Aires?"
§ New Century Chamber Orchestra
Nadja Salerno-Sonnenberg, Music Director
Tour Kick-Off Concert

Wolf (arr. Drew): Italian Serenade
Bartók: Romanian Folk Dances
Piazzolla (arr. Desyatnikov): Four Seasons of Buenos Aires
Tchaikovsky: Serenade for Strings in C Major, Op. 48

Encores:
Schnittke: Polka
Gershwin: "Bess you is my woman now"

Saturday, January 29 at 8pm
Herbst Theatre