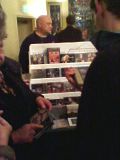 Riding to Berkeley in a BART train filled with
drunken Santas
certainly put me in a Christmas mood for
Philharmonia Baroque's

Messiah
. The performance was without cuts & lasted for 3 hours, with one intermission after Part One. The chorus of only 24 had a clean, weightless sound & made it easy to understand the words. I enjoyed their pronunciation of "cast" with a flattened British A in "cast away their yokes from us." I especially liked their barbed "He trusted in God that he would deliver him," which imitated mocking laughter.
The church acoustic suited tenor
John McVeigh
's clear, bright voice well. He even started to sound a bit operatic during the recitative "Unto which of the angels said he..." Bass
Tyler Duncan
has a solid, open sound with a slightly raw edge. He hit a nice low F at one point, & he was room-filling in "The trumpet shall sound." Countertenor
Daniel Taylor
interpolated a surprising high G in "He gave his back to the smiters." I liked
Mary Wilson
's warbling, warm & pleasant voice. Her spritely "Rejoice greatly" was a highlight of the evening. All of the singers were sparing in their use of ornamentation.
Conductor
Nicholas McGegan
is a cheery & impish presence on the podium. He does not feel that he has to conduct every beat, & he makes a variety of gestures, from waving his hand like a falling leaf to conducting with his knees. There were lots of small details of rhythm & articulation but almost no dynamic contrast, perhaps due to the Baroque instruments themselves. The valveless trumpet, for instance, did not seem able to differentiate piano & forte in "The trumpet shall sound." I was grateful for the timpani, which added much needed oomph to the Hallelujah Chorus & the final Amen.
The enthusiastic audience applauded loudly for the end of Part I, stood almost on cue for the Hallelujah Chorus & then stood again at the end, cheering & stamping their feet. During the intermission, my concert companion & I discussed the tradition of standing for the Hallelujah Chorus. The origin story does not quite make sense to me. An hour into the lengthy 2nd half of the program, he passed me a note which read, "George was just tired of sitting."
§ Philharmonia Baroque
Nicholas McGegan, conductor
Mary Wilson, soprano
Daniel Taylor, countertenor
John McVeigh, tenor
Tyler Duncan, bass
Philharmonia Baroque Chorale
Bruce Lamott, chorale director

HANDEL: Messiah

Sat, December 4, 7:30 pm Berkeley