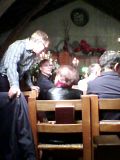 Last evening I attended the West Coast recital debut of baritone
Randal Turner
at the retreat-like
Swedenborgian Church
. We were in a small candlelit room that sat perhaps 70 & was near capacity. The event was being recorded for CD & DVD, so there were glaring lights at the front of the room. The program featured all songs by living American composers, & it was nice not to have to fuss with a dozen pages of translations, as I did at a
recent song recital
.
In the opening song,
The Lake Isle of Innisfree
by
Glen Roven
, we get to her the singer before the piano, & Mr. Turner proved to be pretty much on key. He sings with great variety & dynamic contrast, often moving between falsetto, dark chest tones & big, tensile high notes within a single song. He is an emotive actor as well. He made an entire play out of
Julia Schwartz
's
Don Juan at Forty
. At one point he wandered into the audience, looking for seducible women, until he was called back by a discreet cough from his pianist. In another theatrical moment, he tore off his tie & jacket in frustration. At the scene's despairing end, all the lights were cut, leaving the room in darkness. Mr. Turner was well-supported by pianist
Allen Perriello
, whose playing is crisp & alert. One feels that he is a reliable accompanist. The composer was present, & she took a bow with Mr. Turner & Mr. Perriello.
Mr. Turner's sound is somewhat between an operatic voice & a Broadway voice, & it suited the musical-like numbers by
Ricky Ian Gordon
. I liked the pretty "Lullaby", which Mr. Turner sang with a feeling of unrequited yearning. I also enjoyed the sardonic "The Thin Edge / Coda", in which the piano plays both a tango & a theme from
Tristan & Isolde
under the line "Love is a permanent flop." Mr. Turner made a lot of sound in the
Grapes of Wrath
aria "I'll Be There," which sounds like a Broadway anthem.
Before singing the closing songs by
Clint Borzoni
, Mr. Turner got personal & explained how he discovered the songs a few month ago, when there was national news about gay teens committing suicide. He disclosed that he was bullied on a daily basis as a high school student in Indiana & that it took a long time to get over that experience. Borzoni's lyrical "I Dream'd in a Dream" sounds like an art song version of "Over the Rainbow," though it ends unresolved. Mr. Borzoni was present & looks like a teenager himself.
The entire performance was an intermissionless 70 minutes. The audience stood for Mr. Turner at the end, & most of them stayed to line up & greet him afterward. The encore was a fond "I Left My Heart in San Francisco," arranged by Mr. Perriello.

§ Music by Living American Composers
Randal Turner, Baritone
Allen Perriello, Piano

Glen Roven: "Four Melancholy Songs," Op. 16, No. 1, by William Butler Yeats
1. The Lake Isle of Innisfree
2. A Drinking Song
3. When You Are Old
4. A Crazed Girl

Julia Schwartz: "Don Juan at Forty" from "Histories of Desire" by Ron Butlin

Ricky Ian Gordon: Four Poems by Dorothy Parker
1. Interior
2. Lullaby
3. The Thin Edge / Coda

Ricky Ian Gordon: The Grapes of Wrath
Tom Joad's Act III aria -- "I'll Be There"

Jake Heggie: Two Songs
1. In Praise of Songs that Die (Vachel Lindsay)
2. In the Morning (A.E. Housman)

Jake Heggie: Moby Dick
Act I Scene 7, "Captain Ahab? I must speak with you"

Clint Borzoni: Two Poems by Walt Whitman
1. I Dream'd in a Dream (From "Leaves of Grass")
2. That Shadow, My Likeness

Encore:
"I Left My Heart in San Francisco"

December 6, 2010, 6pm
Swedenborgian Church