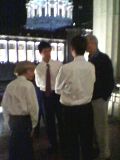 On Friday evening I was in the intimate Green Room for a
recital
put on by the
Omni Foundation
, which focuses on presenting the classical guitar. The event began with 7 young Suzuki guitar students from the
Longay Conservatory
in Santa Clara performing transcriptions of the 1st movement of the Bach
Double Concerto
& the song
Malagueña
. I liked how the well-drilled ensemble cued itself. The students, some of them looking quite young, stayed for the concert.
The
Beijing Guitar Duo
performed the 1st half of their program on slightly small instruments that looked a little like Baroque guitars. They performed the 2nd half on standard classical guitars, though. It took me a while to adjust to the guitar's small, delicate sound. After the duo's gentle version of the Bach
Chaconne
, I found I was also hearing the traffic from outside, an ambient noise I had not noticed before. Both members of the duo give clean, facile & careful performances, though there were intermittent tuning problems.
Meng Su
showed off crystal-clear harmonics & an extremely fast left hand in her solo turn in
Sérgio Assad
's
Aquarelle
.
Yameng Wang
achieves a nice legato line in her playing. In her solo turn, she played a picturesque tone poem with a Chinese flavor that included imitations of the pipa & rippling water & had a passage where the player thumps on the instrument. My favorite piece was the contemporary & slightly dissonant
Maracaípe
, also by Mr. Assad. He was in the audience, & Meng Su acknowledged him & told us that the piece was nominated for a Latin Grammy but did not win. The recital ended with a light & pleasant dance suite.
Both members of the duo are students of
Manuel Barrueco
at the
Peabody Conservatory
, & the event had the feel of a conservatory recital. The venue appeared to be at capacity, with around 150 in attendance. The Omni Foundation must have tapped into an audience of true guitar aficionados, who were very attentive & very quiet for the entire performance.
§ Omni Foundation
Beijing Guitar Duo: Meng Su & Yameng Wang

Chaconne
J.S. Bach/Ferruccio Busoni/Ulrich Stracke

Sonatina Canonica, Op 196
Mario Castelnuovo-Tedesco

Aquarelle
Sérgio Assad
(Meng Su, Solo guitar)

The Bridge of Birds
Carlo Domeniconi
(Yameng Wang, Solo guitar)

Maracaípe
Sérgio Assad

Suite Retratos
Radamés Gnattali

Friday, December 3, 2010
8 pm, Green Room