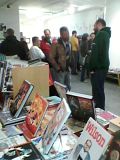 Local cartoonist
Justin Hall'
s fabulously silly
Glamazonia
anthology comes out this month, & he is doing 3 events to celebrate. I attended his 1st appearance last night at
Mission Comics
. It was a friendly, low-key gathering with quite a bit of mingling before the reading. Mr. Hall was joined by collaborators
Jon Macy
,
Christine Smith
,
Fred Noland
,
Diego Gómez
&
Ed Luce
, who animatedly acted out the dialogue of their comics, which were projected on a wall. The content is admittedly aimed at a very specific audience, & is explicit, raunchy & a lot of fun. The last presenter was Mr. Hall himself, but he came to grief when he discovered that he had mistakenly left out most of his own slides, leaving him with nothing to read. He was really embarrassed but will no doubt have the problem rectified in subsequent events. Books sold at these events contain special limited edition, numbered bookplates, & I got mine signed by Mr. Hall.
Up-coming readings:
Wednesday, December 15th, 7-9pm
Saturday, December 18th, 8-10pm
Both are at
Whatever...
in the Castro.
§ Glamazonia: The Uncanny Super-Tranny
Mission Comics
Saturday, December 11th at 7pm.