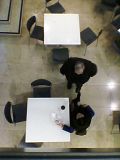 It was most kind of
SFMike
to invite me along to soprano
Elza van den Heever
's
recital
at the
SF Conservatory of Music
, though it turned out he was under the false impression that I actually know something about lieder recitals. All I know is that they typically include clunky German poems set to lovely music. This program began with virtuoso opera arias by Handel, though, which Ms. van den Heever put across with urgency. She has a big voice, & her powerful high notes easily & thrillingly filled the hall. She made the emotional contrasts in "Ma quando tornerai" very clear. She was even more emotionally engaged in Schumann's
Frauenliebe und -leben
, singing touchingly on the last words of "Süßer Freund, du blickest" & in the last song almost sobbing & whimpering.
SFMike told me how Ms. van den Heever
switched from mezzo to soprano
, & one still hears that mezzo timbre in her voice. In the dreamy Fauré songs I sometimes felt that her high notes were produced in a different way than the rest of her range, though they certainly never lack force. Ms. van den Heever apologized for dropping one of the 3 originally programmed Strauss songs, explaining that, "We tried to be friends, but it didn't work out." These were the only songs she sang with the music, & she was a tad less fluid. She produced increasing amounts of sound in
Befreit
, making it climactic.
Ms. van den Heever got a bit emotional when introducing the set of songs in Afrikaans, explaining how much it meant to her to be performing at the Conservatory, where she was a student. The Afrikaans songs had a salon feel to them, & nostalgia is a common theme. Ms. van den Heever sang them with a strong sense of yearning & personal involvement. It was interesting to hear some of the guttural consonants. At the end of the frolicsome
Oktobermaand
, she burst out laughing & then apologized to the audience. Perhaps she messed up something, but, whatever it was, she made me laugh too! She sang the final song,
My siel is sick van heimwee
(My soul is sick with nostalgia) as if it were an anthem. Ms. van den Heever may have tired a bit by the end, as she was very quick to offer us 2 short encores in German.
§ Elza van den Heever, soprano
John Parr, piano

HANDEL
"Mio caro bene" from Rodelinda
"Ma quando tornerai" from Alcina

SCHUMANN: Frauenliebe und -leben, Op. 42

FAURÉ
Les roses d'Ispahan, Op. 39, No. 4
Clair de lune, Op. 46, No. 2
Fleur jetée, Op. 39, No. 2

STRAUSS
Wiegenlied, Op. 41, No. 1
Befreit, Op. 39, No. 4

S. LE ROUX MARAIS
Heimwee
Geboorte van die lente
Mali, die slaaf se lied

J. PESCOD: Oktobermaand

LEMMER AND BEASELY: My siel is sick van heimwee

ENCORES:
BRAHMS:
Botschaft, Op. 47, No. 1
O komme, holde Sommerrnacht, Op. 58, No.4

San Francisco Performances
Sunday, December 5, 2pm
San Francisco Conservatory of Music Concert Hall