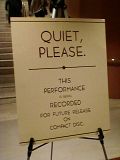 I was at Davies Hall on Wednesday night for
this program
that sandwiched Mozart's easy elegance between 2 heavily orchestrated 20th century works. All hands were on deck for Cowell's
Synchrony
, which required extra woodwinds as well as beefed up brass & percussion. MTT, who has recovered his voice from
Monday
, described the musical events of the piece before leading it. It begins with an extended trumpet solo which is chirpy & bright. The trumpet introduces a swirling theme which recurs throughout the 12 minute piece. The piece is often quite loud, with a driving, forward-moving rhythm. I noticed that many of the violinists wore earplugs.
Gil Shaham
, in jacket & tie instead of formal evening wear, was an amiable soloist in the Mozart
Violin Concerto in A
. He has a smooth, warm sound & a happy demeanor. I like the quickness of his bow speed changes. Mr. Shaham was very playful, especially in the Rondo. He walks around a lot, sometimes playing into the podium or to the 1st stand, but, despite these antics, MTT provided a low-profile accompaniment. The audience responded warmly, & someone in the audience handed Mr. Shaham a small package as he left the stage.
After the intermission, I moved from an orchestra seat between
SFMike
&
Ced
to a 2nd tier box, from where I saw many empty seats in the house. The stage was full, though, with lots of percussion, woodwinds & brass, including 5 horns. Some of the string players again wore earplugs. Before beginning, MTT told us that the performance was being recorded & warned us to be quiet, especially during the opening of the 2nd movement.
Harmonielehre
is monumental & loud, aggressive in all its gestures. It also sounds exactly like
Star Wars
at one point. MTT had the orchestra play out the whole time. Until the middle of the first movement, I was afraid that I would never hear the strings at all. The very sharp cut-offs at the ends of the 1st & last movements were violent & stunning, as was the rapid hammering of the opening chords. The violins played their stratospherically high passages with an impressively full sound.
At one point in the 1st movement MTT paged backward, then forward, through his score, as if he had momentarily confused his place. I did not see it myself, but apparently his baton had just gone flying over his shoulder into the 1st row. There was laughter & applause when a man handed it back during the pause. There was an inexplicable smattering of applause after the quiet ending of the 2nd movement. The audience gave the performance a noisy standing ovation & cheered
John Adams
as well as the percussion section. Like the composer
last week
, MTT beat time with his right arm vigorously throughout the entire piece. When taking his bow, he humorously made a show of rubbing his shoulder.
§ Project San Francisco: MTT conducts John Adams
San Francisco Symphony
Michael Tilson Thomas, conductor
Gil Shaham, violin

COWELL: Synchrony
MOZART: Concerto No. 5 in A major for Violin and Orchestra, K.219
ADAMS: Harmonielehre

Wed, Dec 8, 2010 8:00pm
Davies Symphony Hall