A National Exhibition of Book Art
July 11 - September 19, 2010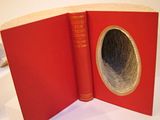 Yesterday I took BART over to Walnut Creek to see this is exhibit of book arts at the
Bedford Gallery
in the Lesher Center of the Arts. The show includes a diverse range of works by over 60 artists. Many of the works are homages to the form of the tradition printed book. The show opens with a whimsical toy train made of sawed-up books sewn together, with wooden spools as wheels. There are simulacra of books made of ceramics or wood.
Pamela Paulsrud
sanded old books down to palm-sized stones that feel like they have been polished smooth by tides.
David Stein
created specimens of an
Unlikely Library
, with titles like the "Obsolete Technology Bulletin" & "Remaining Vigilant Against Cooties" by Jean Piaget.
I liked
Cara Barer
's color photographs of books whose pages have been molded into beautiful biomorphic shapes. I also like the dense forest atmosphere of
Alison Yates
's
Quell, a
3-D story book about a hunter & his prey. A small number of the books can be handled. I enjoyed leafing through
Sas Colby
's collage books made of discarded & arcane printed materials, such as a German planner for accordion lessons. I was surprised to see a picture book by Andy Warhol, complete with a pop-up can of Hunt's Tomato Paste.
The exhibit closes this weekend, & I am glad I made the trip to see it. Unfortunately there is no catalog for the show, but the gallery has an
on-line slideshow
.